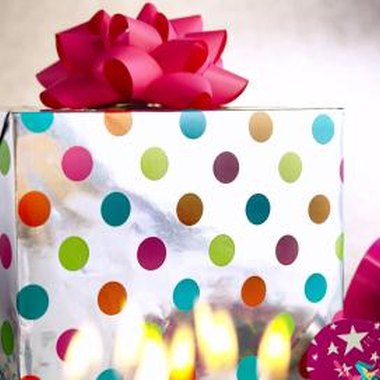 Lake Wales is in Polk County, Fla.,situated among scenic, rolling hills in the geographical center, and the highest ground, of the Sunshine State. This city of about 13,000 residents is filled with local businesses, clear lakes and green landscapes that offer an abundance of options for party planners throughout the year. If you're planning a birthday party and happen to be in this area of central Florida, consider these locations to host a party to celebrate your special day.
Bok Tower Gardens
Bok Tower Gardens (boktowergardens.org) is open year-round from 8 a.m. to 6 p.m., making it an ideal location to host a birthday party for the outdoor enthusiast. The 250-acre plot known as the Historic Bok Tower Sanctuary is on some of Florida's highest ground at 298 feet above sea level. It was dedicated to the preservation of the area's forests and wildlife by Edward W. Bok, the publisher of The Saturday Evening Post and The Ladies Home Journal, in the mid-1920s. Nature trails, outdoor concerts and the world-famous "Singing Tower" are just a few of the attractions you can enjoy by hosting a birthday party at Bok Tower Gardens.
Chalet Suzanne
The Chalet Suzanne Restaurant and Country Inn of Lake Wales, Fla., (chaletsuzanne.com) has been owned and managed by the Hinshaw family for more than 70 years. The 100-acre estate offers guests a wealth of first-class amenities whether they stay for a single meal or an extended period of time. Birthday party-goers can stay in one of the 26 unique rooms of the private Inn. The world-renowned seven-course meal offered by the Chalet Suzanne is a perfect way to celebrate a milestone birthday, and other attractions located on the grounds include skydiving, a swimming pool with patio, and a tour of the Soup Cannery, where the venue's famous soups are made and processed.
Historic Downtown
The Historic Downtown district of Lake Wales, Fla., offers party-goers an abundance of permanent, weekly and seasonal attractions that will make any birthday special and memorable. In addition to an abundance of well-established boutiques, shops, pubs and eateries, downtown Lake Wales is home to a monthly car show, several outdoor murals and locally owned art galleries. The Historic Downtown of Lake Wales offers free parking to patrons, so you can spend your extra birthday money on local trinkets and wares on your big day.
Mountain Lake
Mountain Lake (mountainlakecc.com) is a private community founded in 1915 in the hills just outside Lake Wales, Fla. Guests who would like to host a birthday party can rent out rooms at the the Colony House, Mountain Lake's private clubhouse and hotel, and book tee times on the world-renowned golf course that was designed by Seth Raynor in 1916. This isolated oasis of natural beauty paired with luxury accommodations is one of central Florida's best-kept secrets, and the buildings and grounds serve as an elegant choice to host a birthday party or cerebration of any kind.
City-operated Venues
The city of Lake Wales, Fla., has party spots available through its Parks & Recreation Department (cityoflakewales.com/parks/). The James P. Austin III Community Center and the Tourist Club both are available for rental for social events. The city also offers picnic shelters and sports fields that can be rented for private use.
Resources
Photo Credits
Photos.com/AbleStock.com/Getty Images