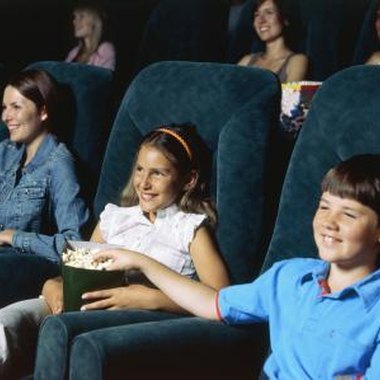 There is no need for kids to be bored when it is raining. A rainy day can serve as a good excuse to take kids places they normally would not visit. Even though it can be challenging for parents, some creative thinking and planning beforehand can give you plenty of ammunition during rainy days.
The Library
A visit to your local library offers relief when you are at home on a rainy day with kids who are bored. The library is family-oriented and open to people of all ages. Best of all, the library does not cost any money; a membership is free of charge. Before going to the library, establish some rules and make your kids aware of proper library etiquette. Upon arrival, ask a librarian for direction and allow your kids to browse age-appropriate sections. Some libraries have separate play areas to occupy the younger kids while the older kids browse for books.
The Movie Theater
When it is raining, there is nothing better than sitting in a cozy movie theater chair, with popcorn in one hand, candy in the other, and a big drink within reach. Kids will love you for taking them to the movies. To keep it affordable, look for age-appropriate, early matinee movies, because these are often cheaper. Browse your local movie listings before going to the theater to avoid being too early or too late.
Aquarium
On a rainy day, the aquarium makes for a fun and educational outing for kids. Many aquariums have extensive indoor exhibits and activities. Encounters with penguins, seahorses, stingrays, jellyfish and sharks will keep kids busy and make them forget all about the bad weather. Go online before your visit, and look up the schedule of your local aquarium, so you know when activities such as animal feedings take place.
The Children's Museum
If your child thinks of the museum as a boring place to visit, take him to a children's museum during a dreary day. Children's museums are located in many different cities. They teach kids about themselves and about different cultures through exhibitions. Unlike traditional museums where you observe different works of art, kids get to actively interact with the exhibits and learn by doing. Children's museums are geared toward families with kids of all ages.
Resources
Photo Credits
Stockbyte/Stockbyte/Getty Images