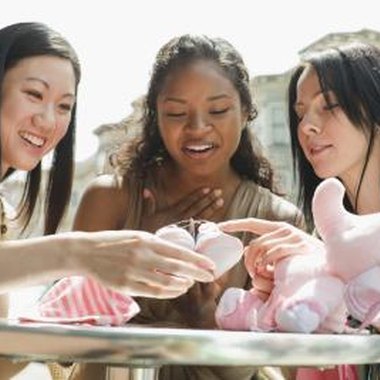 A women-only celebration traditionally thrown for any mother-to-be, baby showers are a great way to show your love and support for a friend or family member who's expecting. Exactly where and how to throw a shower depends on the particular group or expectant mother. In Long Island, there are a multitude of places perfect for a shower.
Party Halls
Renting out a party hall for a baby shower is a good choice for large groups. In Long Island, a number of party facilities cater specifically to baby showers. Fashion Rock (fashionrockny.com) is located in Brooklyn and comes fully-loaded with DJ equipment, disco party lights, and a juice bar with a flat-screen TV. The facility can accommodate up to 70 people. The Inn at Fox Hollow (theinnatfoxhollow.com) is a banquet hall in Woodbury that also welcomes baby showers and comes equipped with flat-screen televisions and a speaker system with an iPod hookup.
Restaurants
Many Long Island restaurants also welcome baby showers. For those that want to celebrate with traditional shower foods like desserts and coffees, the Milk and Sugar Cafe (milkandsugarcafe.com) offers an extensive dessert menu and a cozy atmosphere. For those that are looking for a meal in addition to dessert, Franina Ristorante (thebusinessneighborhood.com/sitecreator//franina) serves upscale Italian entrees in an elegant atmosphere.
Outdoors
For the nature-loving mother-to-be, a celebration outside is a good choice, especially during the summer months on Long Island. Parks are a particularly good choice for these celebrations, and many of Long Island's state parks feature picnic areas or even pavilions available for rental. This includes Belmont Lake State Park (nysparks.com) in Suffolk county and Valley Stream in Norfolk, both of which offer pavilion rentals for groups wary of inclement weather.
At Home
A baby shower held in somebody's home is the best fit for some parties, however, particularly those that don't want to budget time or who want complete control when it comes to decorations and food. For those that would still prefer a little help with an in-home party, Long Island has many catering companies that make specialized food or desserts for baby showers. Elegant Eating (eleganteating.com) is one long island company that even offers linen and china rentals, and A Taste of Home Bakery (atasteofhomebakery.com) offers nearly 25 cake designs specifically for baby showers.
Photo Credits
Jupiterimages/Comstock/Getty Images