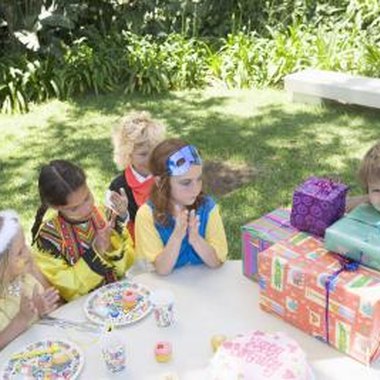 Venue is a major consideration when planning a kids' party, birthday or otherwise. Like many other cities, Harrisburg, Pennsylvania, offers a plethora of locations that cater to many tastes. Whether a child's interests are geared toward sports or crafts, it isn't hard to find a site that serves up fun, action and entertainment.
Sports
At Artistic Sports Academy Plus (artisticsportsacademyplus.com), kids can have gymnastic birthday parties. Professionals take an hour to teach gymnastics to partiers, intermixing the lessons with activities and games. At time of publication, the fee includes 45 minutes to indulge in cake and ice cream, and an ASAP T-shirt for the kid celebrating her birthday. For kids who like the adrenaline rush, the NASCAR Silicon Motor Speedway (no website; 3501 Paxton St., Harrisburg; 717-565-5200) offers package deals that include racing competitions. The staff will also work with a caterer or will give a list of suggestions.
Recreational
ABC Lanes (abceast.com) prides itself on providing family fun at low prices. As of 2011, the two-hour party packages costs $12 per kid and access to lanes. Parents can pick a menu that either serves pizza or hot dogs. Other amenities include drinks, four tokens for each kid for the gaming room and bowling shoes. If the party is small and the kids are older, hit the lanes on Friday or Saturday for Cosmic Bowling Lights. On these nights there is loud music, a fog machine and players bowl while laser lights, disco lights and black lights illuminate the lanes. For miniature golf, there is Water Golf on City Island (h2ogolf.com) with an 18-hole course. Hosts can choose from the Par, Birdie or Eagle plan, all of which provide a round on the course and a choice of food options.
Hands-On
Like its other studios throughout the country, Harrisburg's Color Me Mine (harrisburg.colormemine.com) helps kids tap into their inner artist. Kids can paint such items as piggy banks that are shaped like pigs, turtles and trucks; figurines that look like fairies and dragons; or plaques that look like butterflies and crowns. Michaels (michaels.com) is another craft hub where kids can have a party that helps them tap into their creative side. Arts and craft parties run the gamut of face painting, making beaded jewelry and painting ceramics. When booking a party, hosts can count on Michaels to perform setup and cleanup tasks and make an apron for the star of the party.
Educational
On Saturdays and Sundays, the Whitaker Center for Science and the Arts (whitakercenter.org) opens its doors for parties. Depending on budget, partiers can either roam the Science Center, see an IMAX movie or do both. The Harsco Science Center has KidsPlace, which has an aquarium, a WaterWorks area where kids can create and learn about dams while playing with toys bobbing on the surface, and a Storybook Stage where children can play with and understand theatrical effects, backdrops and lightning.
Pure Fun
For games and simple fun, hit Harrisburg's Chuck E. Cheese's (chuckecheese.com). While attractions are different based on location, party packages typically let kids play video games and Skee-ball. Ticket winnings can be exchanged for prizes. Like other theaters in the Regal Cinema franchise, Harrisburg's Regal Cinema (regmovies.com/groupsales/birthdayparty) makes birthday boys and girls a "Star for a Day." In addition to letting kids have a room to give presents and indulge in birthday treats while also providing movie tickets, the company's website has printable invitations that you can download.
Photo Credits
Pixland/Pixland/Getty Images