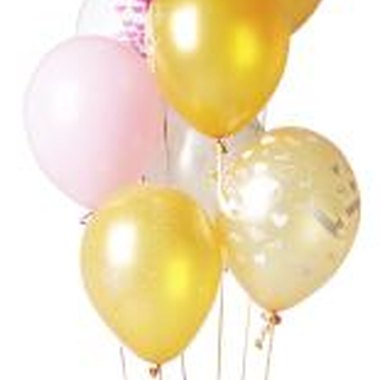 Lansing, Michigan's capital, provides local residents with a vibrant urban community atmosphere alongside the nearby Michigan scenic landscape. Lansing girls have many local options for a fun and interactive birthday party which allows them to celebrate their special day with their friends and family. Parents will find a wide range of options to orchestrate a birthday party for their daughter to meet various budgets, tastes and requirements.
Art
Organize a party that allows a girl and her friends to enjoy creating their own art projects at the Art Unlimited Gallery (artunlimitedgallery.net). Art Unlimited, on Okemos Road in Okemos, about 15 minutes outside of Lansing, offers projects that include making stuffed animals for younger girls or painting pottery for older girls. The gallery has a birthday package of refreshments and party fun, and best of all, each girl can take home her project at the end of the party. Piece of Mine Pottery (pieceofminepottery.com) in Grand Ledge, about 20 minutes from Lansing, decorates the studio for a birthday party and allows girls to make their own art projects. Projects may include making a stuffed teddy bear, painting ceramics or creating an individual piece of pottery.
Pool Party
Take the girls out for a day at the pool. Girls of any age will enjoy a day of swimming and refreshments. The City of Lansing's Department of Parks and Recreation allows families to rent out the city's Hill Center Pool, Moores Park Pool and Hunter Park Pool after regular swim hours. The East Lansing Aquatic Center on Abbot Road, less than 15 minutes from Lansing, has a special rate for parties of 12 or more individuals during regular swim hours. Bring the girls for an all-day party, which allows you to bring in food to the picnic area for party refreshments.
Quinceanera or Sweet 16
Prepare a beautiful quinceanera or Sweet 16 celebration at an appropriate Lansing venue. In many Hispanic families, girls celebrate a quinceanera, an elaborate 15th birthday party that marks the girl's entrance into young womanhood. In other communities, families mark a girl's 16th birthday with a Sweet 16. Bring the girl's family and friends to an elegant Lansing restaurant that has a private room for the special birthday party. Christie's Bistro at the Lexington Lansing Hotel (lexingtonlansing.com) has three private dining rooms for parties of up to 25 people. Troppo (troppo.org) hosts private events at one of its comfortable and tasteful dining rooms. Troppo's menu concentrates on creating new and tasty dishes from traditional comfort foods.
Parks
Create a party atmosphere at a city park. Depending on the girl's age and interests, suggest that the girls enjoy some hiking or biking in a Lansing-area park. Alternately, simply spread out some blankets and let the girls relax with a plentiful picnic basket. Lansing parks, including the Frances, Potter, Moores, and Washington parks, have pavilions where you can set up a sheltered party. If you intend to make a barbeque, the park's authority requests that you do so only in the picnic area. The Harris Nature Center in Meridian, about 25 minutes from Lansing, has trails where the girls can walk while learning about the flora and fauna of the region.
Photo Credits
Hemera Technologies/PhotoObjects.net/Getty Images