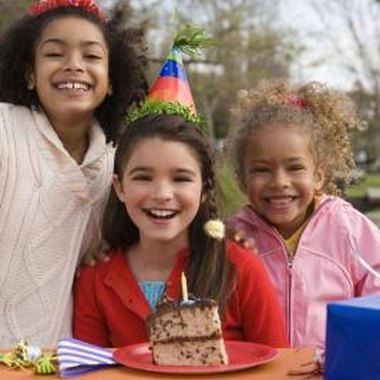 A 2010 study by Kiplinger magazine named Huntsville, Alabama, to a list of the top 10 cities in the nation for raising a family based upon cost of living, good schools and available amenities. It shouldn't be surprising that the city is attracting families with young children. Parents enjoy the city's recreational, cultural and educational offerings, and many of these destinations are also great birthday party sites.
Early Works Children's Museum
Early Works Children's Museum (earlyworks.com) is part of the complex of museums that also includes Alabama Constitution Village and the Huntsville Depot & Museum. For old fashioned girls, birthday party packages are available at Early Works, which include party time at either the Lunch Pail or the Early Works Picnic Space as well as time to explore the hands-on museum. Girls six and under can play in Biscuit's Backyard. The $150 party package includes invitations, favors and museum admission for up to 15 guests.
Emma's Tea Room
Emma's Tea Room (emmastearoom.com) offers girls the opportunity to have their own tea party birthday party. The standard party package is $195 for up to 8 people and includes tea party bingo, finger sandwiches and treats, dress up time, a fashion show and a craft. Additional children can be added to the list for $15 per child. A teapot birthday cake is available for an additional $40 or a dozen roses for the birthday girl can be purchased for $30.
KidVenture
KidVenture (kidventure.biz) is an indoor playground that offers parents the chance to rent out the space for a private party. Active younger girls will enjoy having private access to the playground. Parents supply their own food and decorations. Packages start at $185 for up to 12 children and range to $250 for a slumber party at the playground.
Chuck E. Cheese
Chain restaurant and amusements arcade Chuck E. Cheese's (chuckecheese.com) Huntsville location is available for children's parties. Once again this is a great destination for those active younger girls. Chuck E. Cheese offers a variety of birthday party packages that include a reserved table. They also offer parents the option of enjoying their own walk-in party with no reserved space.
Roller Time
The Roller Time (rollertime.com) roller skating rink offers a fun birthday party for girls who love to skate. It's a great option for girls who may have outgrown Chuck E. Cheese or KidVenture, but still want a active, fun party. Packages range from $94.99 to $199.99 and include food, skate rental and skating time.
Sci-Quest
Sci-Quest (sci-quest.org) is a hands-on science museum that offers a wide selection of party packages and themes. In the Spa Science theme girls get to create their own natural lip balm. Other themes such as Beyond Bugs and Blast Off will delight girls interested in science. Packages range in price from $100 to $225.
Plamor Lanes
The Plamor Lanes (playmorelaneshsv.com) bowling alley offers party packages that include food and shoe rentals starting at $60 per lane for up to 6 people. For younger girls bumper lanes are available to avoid gutter balls. Older girls might want to try out cosmic bowling, which is available on most Saturdays.
Pump It Up
Pump It Up (pumpitupparty.com) calls themselves the inflatable party zone. Younger girls will have a blast playing on the different inflatable equipment. Several different packages are available that include food, favors and both public and private use of the facility.
Huntsville Botanical Garden
The Huntsville Botanical Garden (hsvbg.org) offers three different themed party packages geared towards younger girls. Your daughter can choose from the pirate party, the beach party or the gem mining party. Each includes cake and goodies for 10 children at a cost of $350 for non-members or $300 for members. Basic party packages are also available.
Photo Credits
Siri Stafford/Lifesize/Getty Images