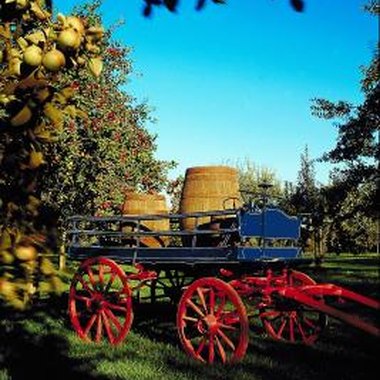 Taunton, Massachusetts, one of the earliest established cities in America, has a lot of fun places for families to visit. A city of more than 55,000, Taunton is very near other metropolitan areas -- Boston, Providence, Cape Cod and Plymouth -- that have popular venues for family fun.
Parks and Refuges
Taunton has lots of wide open space for nature lovers. Watson Pond State Park and Boyden Refuge are family settings that provide outside fun. Watson is a 10-acre park that has picnic areas a bath house, a pavilion and a beach. It's a popular destination for families looking for a place to swim. The Gertrude Boyden Wildlife Refuge (no website; 1298 Cohannet St.,Taunton, MA) is a 50-acre learning environment with two miles of trails, a wetlands boardwalk and covered bridge. It's an ideal getaway for birdwatchers and for those who'd like to watch wildlife in a natural environment. The refuge is the headquarters for the Taunton Conservation Commission.
Active Fun
Taunton has beautiful natural environments for biking, hiking, canoeing and horseback riding. Massasoit State Park offers seasonal activities, including cross-country skiing. Campsites are available with a nearby pond, which is available only to camping patrons. The campsites have hookups for electric and water. Four lakes provide fishing. Families in Taunton also may want to workout, swim or play racquetball at the Taunton Branch YMCA. Another source of active fun in Taunton can be found at the miniature golf course at Rangeway Golf.
Museums and Tours
Taunton is an old city with a rich history, and the Old Colony Historical Society likes to show it off at the Bristol Academy building. Built in 1852, the building is registered nationally as a historic place. Displays include military items, Native American artifacts, furniture, toys and paintings. The society also provides guided tours year round for groups of 10. The tours can be tailored to the interests of the group.
Nearby Venues
Two popular venues for fun outside Taunton are Fenway Park, home of the Boston Red Sox, and the Dunkin' Donuts Center. Aside from being a draw on game days, Fenway Park in Boston is sometimes a location for parties and gatherings. Fenway also offers a 50-minute group tour of the historic ball park. Dunkin' Donut Center in Providence has an arena for sporting events, concerts, family shows and trade shows. Providence is 19 miles from Taunton and Boston is 39 miles away. The city is also near Plymouth and Cape Cod.
Photo Credits
Jupiterimages/Photos.com/Getty Images