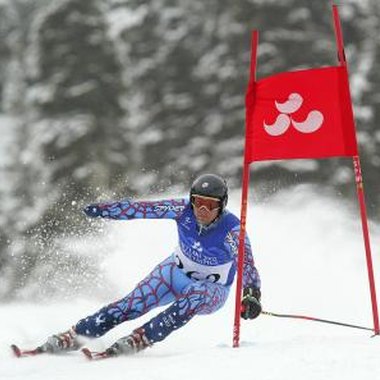 According to legend, notorious crime boss Al Capone once proclaimed Ogden, Utah, to be too wild of a town for him. While the city of 80,000 has tamed a bit from its railroad and prohibition days, it's still a place where you'll find a variety of fun things to do -- from numerous forms of outdoor recreation to distinctive amusement parks.
Skiing and Snowboarding
One of Ogden's big claims to fame is the three ski resorts just a short drive from town. Ogden's closest resort, Snowbasin (snowbasin.com), is located on the far side of Mount Ogden, the 9,500-foot mountain that overlooks downtown. The resort, which played host to the 2002 Olympics, offers a diverse selection of terrain spread across 3,300 acres. It also offers upscale lodges and amenities. Powder Mountain (powdermountain.com) is a large resort that offers more than 8,000 acres of terrain accessible via lift, snow cat, shuttle and touring. Thanks to its massive size and distant location in comparison to other Utah resorts, the mountain is famous for having fresh snow for days -- sometimes weeks -- after a storm. Wolf Mountain is a smaller resort that is an inexpensive place to learn.
Outdoor Recreation
Through the early part of the 21st century, effort was made to turn Ogden into a premium destination for outdoor sports. With trails accessible directly from city streets, and mountains that rise above 9,500 feet, Ogden has always enjoyed the natural resources to be a great outdoor city. With the addition of amenities such as a whitewater park and freeride bike park and with events such as the Dew Tour and Xterra triathlon, Ogden can highlight its resources. Ogden and the surrounding mountains offer all kinds of recreation, including hiking, mountain biking, rock climbing and kayaking. Trail heads accessing the foothills and higher mountains are located around the city at places such as Rainbow Gardens, Ogden Canyon and 22nd Street. The nearby Pineview Reservoir hosts boating, fishing and other water sports.
Amusement Parks
If outdoor recreation isn't your thing, or if the weather isn't cooperating, you can still find plenty of thrills in Ogden. The Salomon Center (salomoncenter.com) located in downtown Ogden is home to an indoor climbing wall, iFly indoor skydiving and FlowRider indoor surfing. Fat Cats (fatcatsfun.com) located next door is more of a traditional amusement park with bowling and games. The Treehouse Museum (treehousemuseum.com), also downtown, is a children's museum with hands-on play exhibits. In northern Ogden, Toads Fun Zone (toadsfz.com) has go-karts, laser tag, an arcade, miniature golf and other attractions.
History and Culture
Around the turn of start of the 20th century, Ogden was a true Wild West town, known for its illicit offerings such as gambling, prostitution and opium dens. These activities infiltrated what was previously a quiet, religious community after the installation of the railroad and Union Station. In 2011, you can view Ogden's past by visiting the station's three museums (theunionstation.org): the Utah State Railroad Museum, John M. Browning Firearms Museum and the Browning-Kimball Classic Car Museum. Another downtown historic attraction is Peery's Egyptian Theater (peerysegyptiantheater.com), which dates to the 1920s and hosts various performances, including parts of the annual Sundance Film Festival.
Photo Credits
Donald Miralle/Getty Images Sport/Getty Images