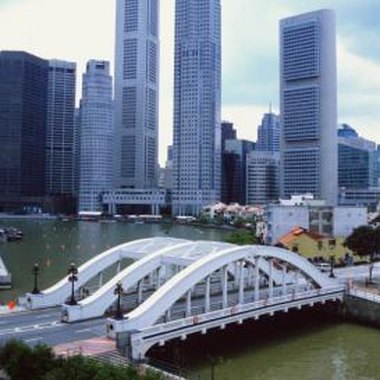 The Johor and Singapore straits, along with a number of reservoirs and pay ponds on the island, make Singapore a hot spot for anglers visiting Southeast Asia. A wide selection of exotic fish inhabit these waters, while renting boats and fishing equipment is relatively inexpensive.
Shores and Jetties
There are many jetty and shoreline fishing spots surrounding Singapore. Schools of tamban, pufferfish and grouper can be found off the southeast tip of the island at Singapore's longest jetty in Bedok. Labrador Park, on Singapore's southern tip, is an interesting spot for travelers, with World War II relics as well as a nature preserve lending a stunning backdrop to a day of angling. Schools of herring and predatory fish inhabit the Johor Strait at the Woodlands Waterfront jetty, where visiting anglers can take advantage of free parking.
Reservoirs
Singapore's first fishing reservoir, the Kranji, was opened in 1985 and provides both shelter and a fresh green vista of trees. However, it tends to be over-fished. The Lower Seletar reservoir is replete with snakeheads and tilapias. A running path, bird-watching facility and fitness center are also available to Lower Seletar visitors.
Offshore Islands
There are two main areas of offshore islands. The largest group lies in the Singapore Strait to the south of the main island, where you will find many reef fishes, such as tuskfishes. In the waters around Singapore's northern collection of islands, which separate Singapore from the Malaysian Johor region, you can fish for kahawai, kob and tuna. Pulau Ubin is one of Singapore's largest offshore islands, located in the Johor Strait. Besides its fishing opportunities, the island is a popular place for canoeing, sailing, camping and stargazing.
Pay Ponds
Visit one of Singapore's many private pay ponds if you are an angling newbie. Fishing enthusiasts can hire all of the equipment they need and enjoy a controlled atmosphere for angling. The fishing pond in Pasir Ris Town Park, situated in the northeast of the island, is larger than a football field and is stocked with a variety of fish, such as grouper, barramundi, mangrove jack, sea bass, golden pomfret and finger mark.
Photo Credits
Medioimages/Photodisc/Photodisc/Getty Images