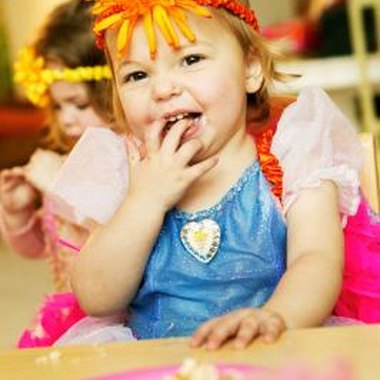 Gautier -- locally pronounced "GO-shay" -- is a small city in Jackson County, Mississippi. It's a small, picturesque resort community renowned for its world-class golf courses and accommodations. If you're planning a larger-scale birthday party for an infant turning 1 year old, there are several excellent venue options in town. When hosting at home just isn't an option, consider a park, convention center or party venue to please all of your guests.
La Maison Gautier
La Maison Gautier -- also known as "The Old Place" -- is located just off of Highway 90 in nearby Pascagoula and overlooks 900 feet of waterfront along the Singing River. Situated among ancient magnolia and oak trees, La Maison Gautier (theoldplace.net) is a wonderful and classy venue for a birthday party, with enough space to accommodate a long guest list. There is a designated area for smoking outdoors, and the rest of the grounds and property are strictly nonsmoking. La Maison Gautier suggests caterers listed on its website for food services; catering must be provided by an outside vendor. Weekday rental dates at this writing were $750 and weekend dates were $1,500. The venue provides a staff member to direct traffic for parking and requires that hosts hire a security guard or police officer for their rental purposes.
City of Gautier Convention Center
The Gautier Convention Center (2012 Library Lane) offers a total of 5,000 square feet of space to the public for rental. The convention center's floor plan is ideally suited for birthday parties; seating and food services can be brought it from outside caterers and the expansive space can be modified with room partitions for a more cozy feel. Because birthday parties for children as young as 1 year old frequently require additional considerations for cleanup, diaper changes, feeding and accepting gifts, the Gautier Convention Center offers excellent accommodations for such requirements. Contact the convention center at 228-497-9610 or via email at gautiercc@co.jackson.ms.us for rates and availability.
Gautier Parks
When the weather permits, why not host your infant's birthday party outside? The beautiful scenery and inviting climate of Gautier make the local park system a particularly inviting venue possibility. Gautier operates four parks located throughout the city. Bob Hayes Park features a Kaboom playground built entirely by volunteers, with a dozier for small children and toddlers and a rock-climbing wall and slide for older kids. Bacot Park is the home of the local Little League and has concession stands, so you can turn your birthday party into a day at the junior ballgame. City Park is more suited to outdoor cooking and entertaining with picnic tables, charcoal grills and a playground. Frasier Park has playing fields for soccer and football as well as basketball courts. Any of these outdoor spaces can be suitable for a child's birthday party with lots of younger guests while allowing adults to keep a watchful eye on everyone's activities. Contact the Public Works -- Recreation section of the local Gautier city government for rental availability and permits at 228-497-4283.
Beau View by Biloxi Beach Resort
Located about a 20-minute drive away in Biloxi, the Beau View resort attracts tourists for the area's excellent golfing facilities. The Beau View offers banquet and meeting facilities for hosting parties and events, and guests from out of town coming to attend the milestone first birthday party can find accommodations in the resort's multi-star rooms. Offering scenic views, waterfront panoramas, beach access, a recreation room with games for older kids to play, a swimming pool and event space, the Beau View offers plenty of options for a child's birthday party. Contact 228-276-2300 for space rental rates, availability and party hosting policies.
Photo Credits
Jupiterimages/Photos.com/Getty Images