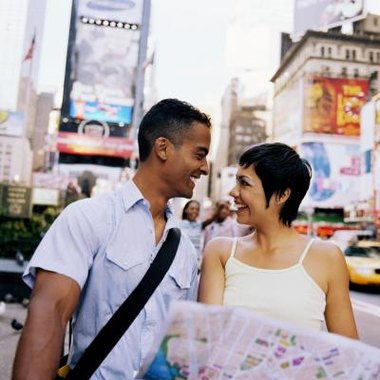 There's no shortage of places to take a date in New York and New Jersey. Both locales offer a nearly overwhelming amount of choices for cuisine, entertainment and adventure. If you're having a hard time deciding where to begin, or if you haven't the time to sift through every single option, here are a few famous -- and not-so-famous -- ways to get started.
Barbetta in New York
If you're looking for a dining experience in a romantic setting, head to Barbetta in New York City's Theatre District. Founded in 1906, Barbetta is the city's oldest Italian restaurant. Its interior is decorated in an elegant 18th-century style, complete with ornate chandeliers and candelabras. What makes it one of the city's most sought-after restaurants, though, is not its interior decor: it's the lush garden where patrons can dine outside as the sun sets. For reservations at Barbetta (www.barbettarestaurant.com; 321 W. 46th St., New York; 212-246-9171), contact the restaurant via phone.
Spirit Cruises in New York
The Spirit Cruise is a yacht that departs from Chelsea Pier on New York Harbor. It's a good idea to schedule a date on the Spirit at dusk, while you and your date enjoy dinner with champagne. And while all tours involve cruising on peaceful waters and gazing at the city skyline, there are several different themes available as well. Past themes have included karaoke, smooth jazz in the summer, and gospel tours with a choir aboard. For current themes and reservations, contact Spirit Cruises (http://www.spiritofnewyork.com; Pier 62, 23rd St., New York; 212-727-2789) via phone.
Have Balloon Will Travel, Inc. in New Jersey
For something different -- and assuming the two of you aren't scared of heights -- go on a hot-air-balloon tour. Have Balloon Will Travel, Inc. is in Phillipsburg and offers champagne and hors d'oeuvres after you land. There is also an overnight package in which you and your date can stay at a bed-and-breakfast inn after your evening or sunrise flight. For current prices and reservations, contact Have Balloon Will Travel (www.haveballoonwilltravel.com; 57 Old Belvidere Rd., Phillipsburg, New Jersey; 1-800-608-6359) via phone.
Plagido's Winery in New Jersey
If you and your date like sampling wines, visit Plagido's Winery in Hammonton. It was named for Plagido Toscelli, an Italian immigrant who came to America in the 1800s and started the vineyard. Although the land has produced wine for more than a century, the fruit of the vine has only been offered to the public since 2007. More than 15 kinds of wine are bottled there, including cabernet sauvignon, merlot and pinot grigio. For current pricing and an event schedule, contact Plagido's Winery (www.plagidoswinery.com; 57 N. First Rd. Hammonton, New Jersey; 609-567-4633) via phone.
Photo Credits
Digital Vision/Digital Vision/Getty Images