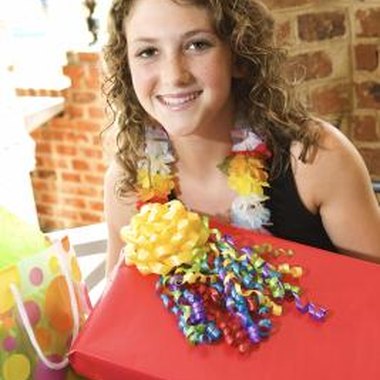 If you're in Queens and looking for a special place to celebrate a girl's turning 12, you're in luck. Queens has a wealth of exciting places to hold birthday parties for young girls, many of which are all-inclusive and willing to take care of all the party planning and supplies. Many party places require up to a month's advance reservation, as well as a deposit at the time of reservation.
Theater Parties
Throw a movie-themed party for your 12-year-old who loves films or dreams of Hollywood stardom. Two locations in Queens rent movie screening spaces for birthdays: Queens Theatre in the Park and the Museum of the Moving Image. You'll need to bring your own refreshments and supplies to a movie party held in the Queens Theatre in the Park (Flushing Meadows Corona Park; queenstheatre.org), where parties may watch new releases or select their own movie to view. At the Museum of the Moving Image (36-01 35 Ave., Astoria; movingimage.us), parties are organized around interactive experiences in which partygoers can make their own animations or dub their own dialogue over famous movie scenes. The museum will also provide, for an additional fee, other additions to your party such as hands-on workshops, a birthday cake, lunch for all your guests and a special gift for your birthday girl.
Activity-Themed Places
If your 12-year-old enjoys spending time in the kitchen, give her a party that really cooks. The Young Chefs Academy (108-10 72nd Ave., Second Floor, Forest Hills; youngchefsacademy.com) offers all-inclusive birthday packages for budding chefs, with every detail from invitations to cleanup taken care of for you. Partygoers from ages 4 to 18 are taught to cook their own food from scratch by lively staff. If your girl is more the artsy-craftsy type, the BrickHouse Ceramic Arts Center (10-34 44th Dr., Long Island City; brickhouseny.com) offers activity-themed birthday parties in which kids learn how to make their own ceramic bowls, plates and cups. Parties are usually held on Fridays or weekends and last for one-and-a-half to two hours.
Pick-Your-Theme Place
Both a party place and toy store, Dudes and Divas (104-12 Metropolitan Ave., Forest Hills; dudesndivasnyc.com) offers several party packages centered around themes perfect for young girls. Options include "American Idol," tea party, ballerina, fashion, royal ball, "High School Musical," American Girl, Hannah Montana and stuff-a-bear parties. All parties include makeup, music, games, dancing, pizza and juice or soda, invitations, costumes and a party hostess, and can be further customized if you wish.
Parties for Animal Lovers
The Queens Zoo (53-51 111th St., Flushing Meadows, Corona Park; queenszoo.com) offers weekend party packages aimed at various age groups that include close encounters with animals, group activities and party bags. For ages 7-12, the zoo offers a Junior Zookeeper party program that includes meeting some of the animals and their keepers in person, playing zookeeper games and preparing animal enrichment. At time of publication, the cost for these parties ranged between $340 and $375. Parties must be scheduled at least one month in advance.
Photo Credits
Thinkstock/Comstock/Getty Images