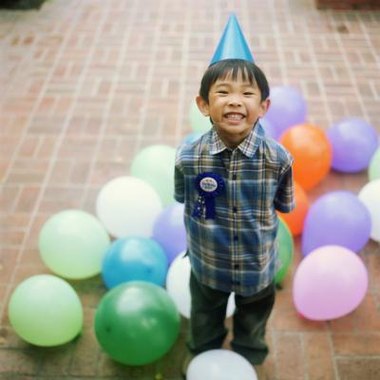 The Dallas/Fort Worth Metroplex, or DFW, is the second largest metropolitan area in Texas, and as such offers a variety of venues for your birthday boy's celebration. These places range from amusement parks and indoor inflatable recreational centers to a race track. Amenities vary depending on the package you choose, but generally fit most budgets and any location around the DFW area.
Indoor Playgrounds
There are several indoor playgrounds around the Dallas/Fort Worth metroplex to throw a party for your birthday boy. The Jump Zone (jumpzoneparty.com) offers a party center in Southlake with themed inflatable slides, bounce houses and obstacle courses to keep your group entertained with outdoor play indoors. Pump It Up of North Dallas (pumpitupparty.com) is another inflatable party zone, with two locations for different age groups. Pump It Up Jr. in Plano provides parties for kids ages 1 through 5.
Arcades
If your birthday boy is a gamer, arcades provide the perfect party venue. Nickelmania Nickel Arcade (nickelmania.com) in Carrollton has different party packages that provide pizza, soft drinks, admission and nickels for game play. Going Bonkers Family Fun Center (goingbonkers.com) in Lewisville provides an arcade, playground, party rooms and a restaurant with pizza and hot dogs for the kids, as well as "grown up" food for the adults. Their party packages include game play, and you can go all out for a "Big Bash" which includes pizza, ice cream and a photo and gift for the birthday boy.
Amusement Parks
The SpeedZone (speedzone.com) in Dallas offers a high-octane alternative for the birthday boy. Parties include pizza, soft drinks and a party room complete with your own hostess. A party with a minimum of 10 people may play video games and miniature golf, with upgrades of three hours of unlimited racing available at additional cost. In Arlington, Six Flags Over Texas (sixflags.com) offers chills and thrills for groups between 10 and 100, and even offers catering for your event.
Sports Centers
For your active birthday boy, centers like Rockwell Indoor Sports Expo in Rockwell (storesonlinepro.com) offer parties for kids ages 4 and up, and this includes all-night lock-ins. These parties last from dusk until dawn, and provide scads of entertainment for your sports nut, like capture the flag, soccer, flag football and dodgeball. Strikz (strikz.com) in Frisco is a family entertainment center that hosts birthday parties with all the amenities like bowling, pizza, soda and game cards. You bring the kids, camera and the cake. Every bowling session ends with the Cha-Cha Slide, starring your birthday boy and giving him a chance to dance.
Photo Credits
Mike Powell/Lifesize/Getty Images