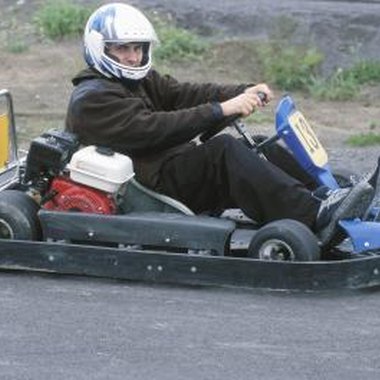 Go-kart locations are among the more favorable places to hold a birthday party. The Atlanta area is filled with multiple go-kart tracks that offer special party packages. Many of the tracks in the Atlanta area also feature arcades, bowling alleys and other fun entertainment options. The tracks' discounted package options often include access to tracks, amusements and private party rooms. Some locations offer multiple tracks for adult and junior drivers, allowing the whole family to enjoy go-karting.
Andretti Indoor Karting and Games
Andretti Indoor Karting and Games, located north of Atlanta in the the suburb of Roswell, offers families and large groups party packages for celebrating birthdays and special events. As of July 2011, packages range from $300 to $425, including access to the location's indoor go-kart track, arcade and private party room, complete with cake and refreshments. Andretti Indoor Karting also provides patrons with a rock wall, a full-service bar and an indoor ropes course.
Dixieland Fun Park
The Dixieland Fun Park is a small amusement park in Fayetteville, just south of Atlanta. The park features a large outdoor go-kart track, small roller coasters and thrill rides, a water park and an 18-hole mini-golf course. Parties at Dixieland Fun Park are priced based on size and dates, but admission to the park ranged from $10 to $20 as of July 2011. A license is required to drive on the large kart track, but a junior track is offered for smaller, younger drivers.
Malibu Norcross
Malibu Norcross, a multi-state commercial go-kart and party place, has a location in Norcross. As of 2011, party packages at Malibu Norcross range from about $13 to $20. Packages may include food, access to the go-kart track, other amusements like mini-golf and bumper boats, party invitations and a private party location. Malibu Norcross also holds a large video game arcade, with access to the arcade included in some birthday packages, such as the "Gamers" package.
Mountasia Marietta
Owned by the same entertainment group that operates Malibu Norcross, Mountasia Marietta is a family fun park and go-kart track located northwest of Atlanta, in the suburb of Marietta. Mountasia Marietta birthday packages, like those at Malibu Norcross, feature access to the large go-kart track plus video arcades, mini-golf courses, bumper boats and a private party room. Additional options, such as extra arcade tokens, more food and party cups, may be added to a package by request.
Resources
Photo Credits
Hemera Technologies/Photos.com/Getty Images