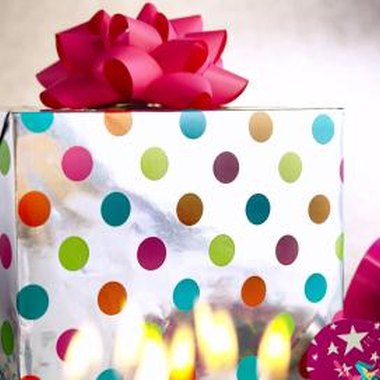 Monroe, Louisiana, is located in Ouachita Parish in northeast Lousiana. Monroe and the suburb of West Monroe serve as a hub for people in this area. They offer numerous shopping, entertainment and dining options, as well as a variety of local parks. Many of these places also offer birthday party packages or accommodate large groups making them ideal party locations.
Gyms
Gather a group together for a birthday party at The Jungle Gym (thejunglegym.net), located in West Monroe. The Jungle Gym offers three packages, all of which include unlimited playtime in the gym's 9,100 square foot indoor playground, a party room, soft drinks and balloons. Bayou Gymnastics (bayougymnastics.com), located in north Monroe, also offers birthday parties. Guests are led in gym activities including Bayou's popular parachute games.
Parks
Monroe is home to many parks that make ideal party locations. Kiroli Park in West Monroe offers covered picnic pavilions, large play areas and nature trails. Forsyth Park is in the heart of Monroe and offers 53 acres, including a nine-hole golf course, mini-golf and a children's park. Chennault Park is in east Monroe. This 500-acre park offer an 18-hole golf course, Frisbee golf course, picnic areas and a paved walking trail. Other parks in the area include Restoration Park, Lazarre Park and Chenier Lake Park.
Restuarants
Monroe has many restaurants, both national chain and local, that support large groups for birthday parties. Warehouse No. 1 Restaurant (warehouseno1.com) is located on the Ouachita River and serves steaks, seafood and Louisiana cuisine. Reservations are be made on their website or by phone. If you'd like a more laid-back local place, try Boudreaux's of Monroe (boudreaxs.info) or Bayou Bistro (no website; 125 Constituion Drive, West Monroe; (318) 329-9998). Both of these places offer Cajun cuisine in a casual atmosphere. Choose an old favorite such as Chick-Fil-A (chickfila.com), Chili's (chilis.com), CiCi's Pizza (cicispizza.com) or Olive Garden (olivegarden.com). Each of these locations offers seating for large groups. It may be necessary to call ahead and give staff a few hours notice of the number of guests in your party.
Games
Excalibur Family Entertainment Center (excaliburfun.com) offer laser tag, go-karts, mini-golf, climbing walls, batting cages and kiddie rides. The facility is home to four large party rooms and game tokens, drinks and pizza for up to 10 guests. Take your party guests bowling at Bayou Bowl (bayoubowl.com). This bowling alley offers two packages, each serving up to 10 guests with two hours of bowling, paper products and cake. Mane Street Mini Golf and Games (no website; 205 Mane Street, West Monroe; (318) 322-7229) is an 18-hole miniature golf course that includes waterfalls and an old grist mill. It also offers and indoor, black light course with a swamp theme.
Resources
Photo Credits
Photos.com/AbleStock.com/Getty Images