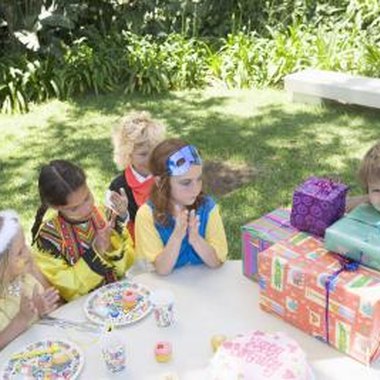 Gainesville, Georgia is located just northeast of Atlanta. Being part of a large metropolitan area provides many options for children's party locations. Party packages are competitively priced. Due to limited numbers of time slots at each location, be sure to make your reservation well in advance to secure your first choice of party day and time.
Pony Perfect Party
Pony Perfect Party (ponyperfectparty.com) is located on Wiley Road in Gainesville. They offer parties at the farm as well as pony parties at your home. A party at the farm includes two ponies for guests to ride, farm animals for the children to pet, brush, walk and feed, and a picnic area. Larger ponies or horses can be provided for older children. The farm also offers a covered area in case of rain. Pony Perfect Party will also come to your home or other location in Hall County with two ponies and an assortment of petting zoo farm animals. Contact the farm for booking and pricing information.
Skate Country
Skate Country (skate-country.com), a roller skating rink on Thompson Bridge Road in Gainesville, offers pizza-party packages for birthdays. Parties can be booked on Saturday and Sunday afternoons. Pricing starts at $125 for 10 guests. Skate Country party packages provide invitations, admission and skate rental, two hours in a party area, a pizza slice and drink for each guest, all paper products and a birthday balloon and button for the honoree. You provide the cake. No ice cream can be brought into the facility. Parties scheduled for Friday or Saturday night carry an additional fee, with packages beginning at $150.
INK
Interactive Neighborhood for Kids (inkfun.org) is a hands-on children's museum located on Chestnut Street. Touted as being one of the best birthday party spots in Georgia by Atlanta Parent Magazine, INK is sure to excite your birthday child and guests. It offers many packages to suit varying needs and budgets. All packages include admission to the museum for the birthday child plus 15 guests and an unlimited number of adults, use of the party room for 90 minutes, and an INK T-shirt for the guest of honor. Invitations, thank-you cards, decorations, food and goodie bags can be included, depending on your needs. Party packages begin at $125 with a non-refundable $50 deposit due at time of reservation.
Monkey Joe's
Monkey Joe's (monkeyjoes.com), located on Browns Bridge Road, is an indoor, inflatables playground. They offer party packages for kids 12 and under. All packages include two hours in a party suite and unlimited time in the play area, invitations, drinks for each guest, paper products, and a gift for the birthday child. Optional add-ons include balloons, goodie bags, ice cream and pizza. You're allowed to bring a cake, but no other food or drinks. Pizza can be ordered for an additional $12.95 each. Pricing begins at $139 for eight kids. An extra $25 will provide a themed party. Contact Monkey Joe's for theme options and to book your party.
Photo Credits
Pixland/Pixland/Getty Images