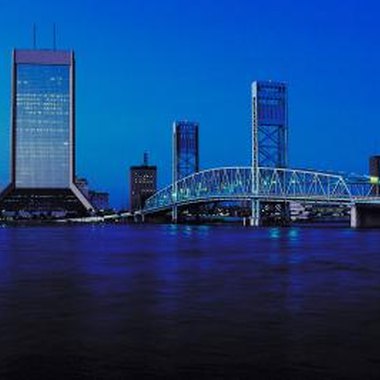 From classic table settings to dirt-flinging buggy riding, many places in Jacksonville offer space for a birthday party. For themed dance parties, a banquet hall or ballroom provides large spaces, but adventurous birthday celebration goes for a wild outdoor setting. Whether you want to party on Jacksonville's riverfront or near the clubs of downtown, pick a spot that your birthday celebrity enjoys and accommodates your guests, as well.
Historic Spaces
For elegant birthday celebrations, a ballroom offers a large amount of space for a dance floor, tables, bar area, buffet tables, stage, DJ equipment, speakers and standing room for any wallflowers. The Garden Club of Jacksonville (gardenclubofjacksonville.org) offers a historic building with pillars, beautiful landscaping and large ballroom. The Garden Club also has a large kitchen, banquet chairs and tables, outdoor chairs and an arch. The Friday Musicale of Jacksonville (fridaymusicale.com) is another venue with historic and classical furnishings. Founded in 1890, Friday Musicale offers a hall and auditorium with stage, sitting areas, grand pianos, sound system and kitchen.
Banquet Halls
With large rooms for seating and dance floors, banquet halls work well for a big birthday bash. The Hyatt Regency Jacksonville Riverfront (jacksonville.hyatt.com) hotel offers picturesque water views with a large grand ballroom. With 28,000 square feet, the ballroom gives you the space to create any theme, from a large masquerade-style formal event to a rocker-style concert birthday fiesta. The Omni Jacksonville Hotel (omnihotels.com) also offers plenty of halls and meeting rooms for large and small birthday parties. The Omni's grand ballroom is 6,952 square feet, which also accommodates a large guest list, dance floor and multiple table settings.
Outdoor Park
To host an outdoor birthday celebration, Jacksonville offers a few community centers and parks. The Blue Cypress Community Center (coj.net) offers an indoor facility with a swimming pool and outdoor area near a lake. The facility also offers a large field to accommodate a dining tent or moonwalk. An adventurous camper might like an overnight birthday at Fort Clinch State Park (floridastateparks.org), which includes a campground near the beach and pier for sunbathing and swimming.
Adventure Parks
For kids and young adults, adventure parks in Jacksonville offer rides, arcades and even laser tag. Adventure Landing (adventurelanding.com) has two locations in Jacksonville, and birthday party packages give you an all-in-one price with a party organizer, party tables, food and drinks and a "party captain" as your host. For a muddy birthday party, the Dune Buggy Adventure Park (bajabuggyz.com) in Jacksonville gets kids and adults together for some mud riding in the "baja buggyz." Dune Buggy also offers exclusive park usage for birthday party packages that allow for unlimited number of guests but with a minimum of 90 guests. However, you can book a party for any group as long as you call a few days in advance.
Photo Credits
NA/AbleStock.com/Getty Images