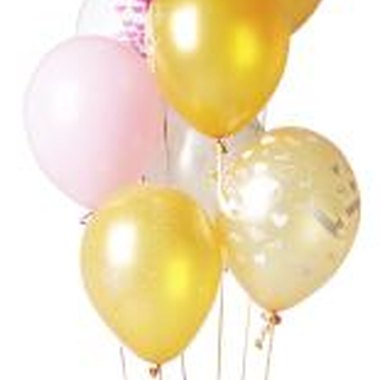 Girls celebrating their 6th birthday in Delaware have options for birthday party fun throughout the state. Some young girls like fluffy pink birthday party themes, some enjoy doing a craft with their friends and others enjoy vigorous birthday activities. Towns and cities throughout Delaware provide all of these options that allow the families of birthday girls to select the option that fits the child's interests and the family's budget.
Museums
The Delaware Museum of National History (delmnh.org) offers birthday party packages that include museum admission, a party space and, for an upgraded birthday package, a museum tour and opportunity to interact with live animals. Delaware Children's Museum (delawarechildrensmuseum.org) features all-day access to the museum for a birthday group with a private birthday party room, a birthday host and the option to bring a cake for the birthday celebration. The Delaware Center for the Contemporary Arts (thedcca.org) hosts a two-hour birthday party that includes a hands-on art project, a visit to the museum galleries and use of a museum classroom for cake and a birthday celebration. All three locations are in Wilmington.
Art Project
Organize an art project for a engaging birthday party for a 6-year-old girl. Build-a-Bear (buildabear.com) workshops give the birthday girl and her guests the opportunity to make a stuffed animal. A staff member will guide the children through the project. Build-a-Bear workshops are at the Christiana Mall in Newark and the Dover Mall in Dover. Everyday Artists (everydayartists.com) features ceramic painting birthday parties. Each party guest paints her own pottery piece and the group then sits down for pizza and cake. The girl's family returns a week later to collect the glazed and fired pottery pieces, allowing each child to keep her painted piece as a memento of the party.
Athletics
Create an energetic birthday atmosphere for a young girl's birthday at a sports or athletics center. The Dover Skate Center (doverskatecenter.com) in Dover has a variety of birthday packages available that include various options for skating time, skate rental and refreshments. Girls who enjoy the martial arts have the option of inviting guests to Dover Karate (doverkarate.com) for a karate lesson. The birthday girl serves as the karate instructor's "assistant" during the party. After the party the kids all sit down for refreshments. The Jungle Rapids (junglerapids.com) center near Wilmington offers various birthday party options including a party at the center's water park. The party package includes pizza and drinks and a party room.
Birthday Center
Community Centers offer room rentals that allow families to create their own birthday fun without bringing a large group of excitable kids into their home. The Edgemoor Community Center (ecc-de.org) in Wilmington offers the use of its events room and gym for a birthday celebration, both on weekends and on weekdays. The Kingswood Community Center (kwac.org) in Wilmington has room rental options. The Buzz Ware Village Center in Arden (arden.delaware.gov), along the Pennsylvania/Delaware border, has several room rental options for families who wish to hold their daughter's birthday party at the Center.
Photo Credits
Hemera Technologies/PhotoObjects.net/Getty Images