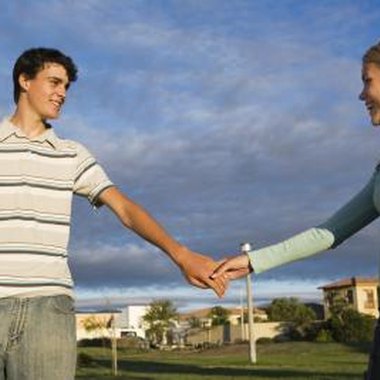 For many parents of 14-year-olds, the question isn't so much whether to allow their teens to "date" as to define its parameters. Do you let your kids go out alone with members of the opposite sex? Do you allow them to pair off? What about curfews? One solution is to insist that your teen be accompanied by a chaperone; if not you, then someone you trust.
Concerts
If you can stand to listen to the music enjoyed by your teen, a concert is a good choice for a chaperoned date. Find a venue that provides some opportunity for conversation and a style of music that is conducive to civility. If you have difficulties standing for long periods, or feel nervous in crowds, choose a concert that has some seating and open areas away from the music.
Parks
A walk in the park with your teen and her date is a pleasant way to spend an evening. Brainstorm with your teen to come up with ideas for how to get around, for example, bicycling or rollerblading. Help pack a picnic lunch. Take photographs or look for seasonal activities, such as ice skating, or special attractions, such as city monuments, a botanical garden or Frisbee golf course.
Bowling Alleys
Bowling alleys have been a time honored hang-out for teens since the 1950s. If your teen has never been bowling before, show him and his date how to roll and keep score. Or make up your own rules by placing fun bets on whether they can knock down a certain pin. Neon bowling, which is played in the dark, is an entertaining alternative. Many bowling alleys also have video game arcades, which offer a "safe" break from chaperones.
Restaurants, Cafes and Coffeeshops
Accompanying your teen and her date out to dinner is a good way to get to know the young man. This can be part of a strategy that starts with a fully chaperoned presence and gives your teen more freedom as she demonstrates compliance with your rules.
Game and TV Nights at Home
One of the best ways to initiate a relationship with the person your teen wishes to date is to invite him to spend an evening at home with your family. Give your teen some freedom to plan the date and decide on what to watch and eat. Use the time you spend preparing together to talk about civility and how to treat a date.
Photo Credits
Polka Dot Images/Polka Dot/Getty Images