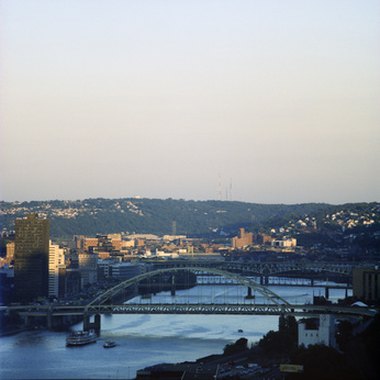 Pittsburgh's Southside district was annexed to the city in 1872 after originally being settled by Eastern European immigrants who came to work in the region's steel mills. Consisting of narrow streets and renovated row houses, the Southside has shifted its personality over the years to become home to a younger population of university students and hip professionals. This swing in demographics has contributed to the burgeoning nightlife scene here, and the Southside now boasts one of the longest Victorian main streets in the United States. Designated as a historic district, East Carson Street brims with bars, clubs, restaurants and retail shops. Travelers will find several hotels in the area, each with a unique set of accommodations.
SpringHill Suites Pittsburgh-Southside Works
The SpringHill Suites Pittsburgh-Southside Works is a modern all-suites hotel with 115 guest rooms. Each suite comes with a kitchenette and work station with free Internet. Other standout hotel amenities include a business center, fitness area, indoor swimming pool and hot tub. The hotel provides a complimentary continental breakfast, but it charges for on-site parking. Perhaps the most advantageous aspect of this hotel is its location. Situated close to the modern Southside Works shopping complex, the SpringHill Suites puts guests within easy walking distance of places like the Cheesecake Factory, H&M clothing store and Southside Works Cinema.
Holiday Inn Express Pittsburgh-South Side
The Holiday Inn Express Pittsburgh-South Side efficiency hotel sits adjacent to the 10th Street bridge across the Monongahela River from downtown. The hotel offers 125 guest rooms, some of which have scenic views of the river and the city's skyline. Guest facilities here include a gym, an indoor swimming pool, a spa, a business center and two conference rooms of moderate size. Hotel staff serve a complimentary breakfast buffet each morning, and on-site parking is available for a fee. Nearby attractions include the Three Rivers Heritage Trail, the Club Cafe music venue and George K. Cupples Stadium, all of which lie just a few blocks away.
Sheraton Station Square Hotel
The Sheraton Station Square Hotel looms over Pittsburgh's Station Square, a former railroad station that has gradually emerged as one of the city's top destinations for leisure and entertainment. Numerous nightclubs and eateries fill the premises, offering travelers ample opportunities to get out of their hotel rooms. Fodor's recommends this hotel for its picturesque river views and abundant amenities, which include flat-screen HD televisions in all 399 rooms as well as an indoor pool and a fully equipped fitness center. Guests can dine at the hotel's on-site Pittsburgh Rare Restaurant, which looks out over the river, or at other prominent restaurants in Station Square, such as the Hard Rock Cafe and the Grand Concourse. Additionally, the Sheraton Station Square Hotel lies only one block from the Gateway Clipper pleasure cruise docks and the boarding platform for Pittsburgh's famous Duquesne Incline.
Morning Glory Inn
Those looking for quaint bed and breakfast accommodations in the Southside can opt for the Morning Glory Inn. Tucked a few blocks back from the bustle of East Carson Street, the Morning Glory Inn occupies a brick Italian Victorian townhouse dating to 1862. According to Fodor's, these cozy quarters have been renovated to provide guests with five rooms as well as a single luxury suite. Each room features antique furnishings and distinct decor themes. For example, the garden guest room has a bright ambiance with floral wallpaper and a white wicker bed frame.
Photo Credits
pittsburgh bridges image by blaine stiger from Fotolia.com