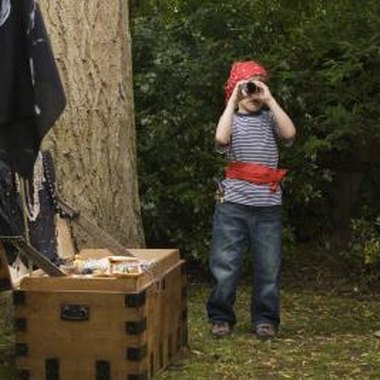 Pirate-themed parties for kids offer the opportunity for a variety of games and activities, in addition to the fun of pirate costumes, decor and food options. Engage the entire group at one time or integrate individual and hands-on projects for the party guests to complete in celebration of the birthday child.
Group Activities
Give party guests a treasure map of your yard and encourage them as a group of pirates to find the hidden treasure chest. List the steps to finding the treasure. For example, walk three steps toward the big tree, five steps toward the swing set and eight steps toward the sandbox to find the treasure. Inside the treasure chest, you can place gold-wrapped candy coins, plastic necklaces and faux rings. Children can collect the booty and take these items home as party favors. Another idea is to play hot potato with a pirate hat and when the music stops, the child holding the hat must put it on and walk the plank. The plank can be a piece of cardboard or wood into the center of the circle.
Dramatic Play
Give the children pirate costumes, hats and swords from the discount store, or make them yourself to play pirates in the back yard. In case of inclement weather, use an open area of the house. Shape the sides of a large refrigerator box from a home improvement store into a pirate ship. Allow the guests to color the ship with crayons or markers and adhere skull and crossbones stickers to the ship. Encourage each child to make a flag with glue from a short dowel rod and a scrap piece of fabric.
Arts and Crafts
Party-goers make their own ocean scenes to remember the party as an arts and crafts activity by funneling play sand into the bottom of a glass baby food jar. Add sea glass, shells and baby oil mixed with blue food coloring to complete the craft. Hot-glue the lids back on to avoid spills and messes. Another craft idea is to paste a colored paper cutout of a parrot and colorful feathers onto a toilet paper tube. Staple a piece of thin elastic connecting the two sides at the bottom for party guests to wear the parrot on their shoulders.
Transition Activities
If you're looking for something for the party guests to do while you are getting the food or cake ready for the party, consider some transitional activities that don't need instruction or supervision. Print some pirate-themed coloring pages from a free online site or make photocopies of a few pages from a coloring book. Another idea is to gather the necessary materials for the kids to create their own telescopes. Ensure one empty paper towel roll for each guest and a wide variety of craft supplies such as self-adhesive jewels, markers, glue sticks and tissue paper to adorn their homemade telescope.
Photo Credits
Jupiterimages/BananaStock/Getty Images