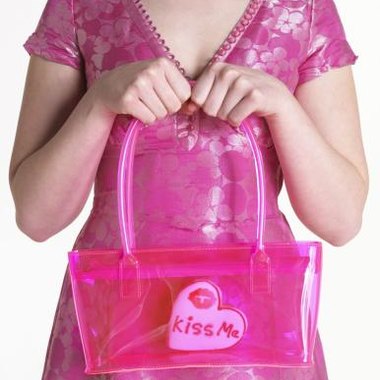 A pink color scheme sets the stage for a fun and feminine sweet 16 party. When working with a color scheme, it's important to incorporate the color(s) into all aspects of your event, including the favors. There are endless examples of pink favors that teenage girls would love, with options that fit every budget. If you don't want to use standard favor bags or gift bags to hold your favors, consider using pink wallets, pencil cases, makeup cases, handbags, draw string backpacks or canvas bags.
Pink Candy
A bulk foods store is the perfect place to purchase pink candies that are normally sold with other colors, such as smarties, jelly beans, gummy bears and candy hearts. Other candies that are sold in pink include bubble gum, sour belts, rock candy, lollipops, ring pops, candy necklaces, taffy, chocolate-covered almonds and chocolates wrapped in pink foil. Alternatively, you can order chocolate bars online with customized wrappers.
Pink Boas
Few things scream "girly" more than fluffy, hot pink boas! Although premium boas can be costly, many can be found for just a few dollars in the bachelorette section of a party supply store. Not only can they be used to decorate a bedroom, but they can be worn on Halloween or during slumber parties or girls' nights out.
Pink Photo Frame
There is sure to be a photo frame with pink decorations -- such as sparkles or stones -- that matches your party theme. To personalize the gift, you can have it engraved or include in it a photo of you with the guest receiving the frame. If you don't have photos of you with each of your guests, you can take the photos as each guest arrives, then print them off during the party or send them to your guests in the mail.
Pink Jewelry
If your budget is a little larger, or if you only have a handful of favors to purchase, then jewelry with pink beads or stones is sure to bring a smile to your guests' faces. If you can't afford real jewelry, costume jewelry can still be beautiful. Ideas include bangles, anklets, earrings, rings, belly chains and necklaces. For something a little more personalized, purchase charm bracelets and hand pick the charms to suit the individual guests' interests. You might even want to have one of the charms engraved with the date of the sweet 16 party.
Photo Credits
Brand X Pictures/Brand X Pictures/Getty Images