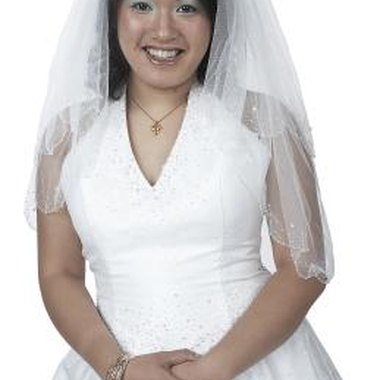 Bridal showers are a rite of passage for many brides-to-be before walking down the aisle. When making bridal shower invitations, you can convey your well wishes with the wording you choose for your invitations. With the right wording, you can send the new bride off to the altar knowing that her friends and family sincerely wish her a lifetime of happiness.
Step

1
Decide what you want the theme of your bridal shower to be. If you are going for a more formal approach use more traditional wording. For a shower that is going be more contemporary, use lighter wording.
Step

2
Pick your wording. An example of more traditional wording is "The mother and bridesmaids of Kelly Johnson invite you to join them in a bridal shower honoring Kelly and Neal's upcoming wedding." An example of contemporary wording is "Ashley's found the love of her life! Join us for a bridal shower where we give her the household tools to start out as a wife."
Step

3
Add a quote or verse about love, if you desire. Find a romantic quote such as Rosemonde Gérard's "For you see, each day I love you more. Today more than yesterday and less than tomorrow."
Step

4
Design your bridal shower invitations around your well-wishes for the bride. Place the wording in an area where it will draw the most attention from recipients. Be sure to also include the information about the date, location and time of the shower.
Tips & Warnings
When choosing your wording, consider the bride's personality as well. For example, if she is really fun-loving and sweet, compose fun rhymed verses about love and her relationship for the invitations. If she has a more stoic personality, use more traditional wording on the bridal shower invitation.
Photo Credits
Photos.com/PhotoObjects.net/Getty Images