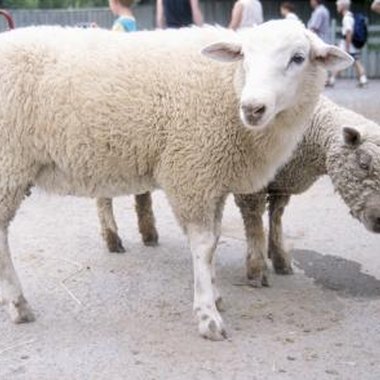 Hazlet, New Jersey is home to the Green Meadows Farm, the town's sole petting zoo. The Green Meadows Farm boasts "an ideal country learning atmosphere for people of all ages." Their tours and activities are designed for both families and larger groups for events such as birthday parties and field trips.
Dates and Times
The Green Meadows Farm is open in the spring from early May to early June, and in the fall from late September to early October. The first tour begins at 9:30 a.m. Mondays through Fridays, and the last tour begins at 2 p.m. On Saturday and Sunday, the last tour begins at 3 p.m. Family tours occur every 15 minutes. Reservations for family tours are not required, but the farm's staff does recommend attending during its slower times -- after 1 p.m. on the weekdays and any time on the weekends.
Rates
At the time of publication, the general admission is $12 per person, but children under 2 years old get in for free. Group discounts are available -- $9 per person or $8 per person for groups of more than 20. Groups or more than 20 require a reservation.
Activities
Green Meadows Farm encourages people of all ages to learn about its farm animals through hands-on experiences. Guided tours are designed specifically for the age group of the participating children. Everyone is allowed the opportunity to milk a cow. There are also tractor-drawn hayrides through the farm. Souvenirs and snacks are available for purchase, but there is also a picnic area for those who want to pack their own lunch.
Directions
You can get to the Green Meadows Farm by taking the Garden State Parkway to Exit 117. You'll then take route 36 East for 1.2 miles to Middle Road. Turn right onto Middle Road for 1.2 miles to Green Acres Drive and you will arrive at Green Meadows Farm.
Traveling Farm
Green Meadows Farm may not be open during the summer months, but the business is still busy. Between the middle of June and the end of August, it offers a traveling farm that features two packages. The small-critter package includes an hour and a half with the farm's chickens, ducks, bunnies, goats and lambs. The big-and-small-critter package includes hands-on activities with at least 20 of the farm's animals, including ponies that children can ride. The small-critter package is $395, and the big-and-small-critter package is $595, at the time of publication.
Near Hazlet
While the Green Meadows Farm is the only petting zoo in Hazlet, there are a couple of others nearby. A. Casola Farms is in Holmdel, New Jersey. It is mainly a nursery and garden center with special events for holidays, but it includes a small petting zoo on the premises. Happy Trails Ponies and Petting Farm's office is in Old Bridge, New Jersey, but the business brings its animals to you for special events.
Photo Credits
Hemera Technologies/Photos.com/Getty Images