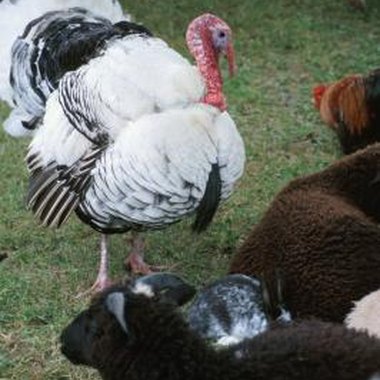 A petting zoo theme makes a good party -- but not just for kids. It may seem like it would work only for a younger crowd, but with a little creativity this theme can be interpreted for adults to enjoy with animal-inspired decor, games and activities, food and drink.
Party Prep
Decorate with balloons clusters, streamers and all manner of petting zoo animal images. Cut them from construction paper, or print online pictures an enlarge them to poster size. Put up banners and signs that read, "Petting Zoo Party" or a "This Way To Petting Zoo!" Also hang construction paper cutouts with "oink," "moo," "baa," "tweet," "neigh" and other animal sounds in large, fun fonts. For a centerpiece on the food table, use a balloon animal.
Kiddie Fun
At a children's party, jumble such words as "giraffe," "donkey" and "piglet," and give players five minutes to unscramble as many as they can. Blindfold the kids and hand them stuffed animals one by one, and see if they can identify them by touch. Write names of petting zoo animals on pieces of paper, fold them and hide them all over the backyard or party location for kids to find. Give each child a cupcake with plain white frosting, and show them how to create animal faces using candies.
Adult Activity
At an adults' party, play the word scramble game. Write the names of petting zoo animals on cards and have each participant, without looking at the card, tape it to their foreheads. Guests ask each other yes or no questions until everyone has figures out what animal they represent. The adults can also enjoy animal-themed music entertainment, including such songs as "Black Cow" by Steely Dan, "Brass Monkey" by The Beastie Boys, "Dig A Pony" by The Beatles, "Mad As Rabbits" by Panic at the Disco and "The Fox" by Elton John.
Good Fare
For food and drink at a kids' party, in addition to cupcakes, you can serve soda, potato chips and either pigs in a blanket or "animal pizzas," which are English muffin pizzas decorated with mini pepperoni to create with animal faces. For adults, give each dish an animal name, for example, piglet pork sliders, cow coleslaw, pony potato chips and llama Long Island iced teas. For dessert, serve cupcakes topped with either candy animal faces or animal crackers.
Photo Credits
Hemera Technologies/Photos.com/Getty Images