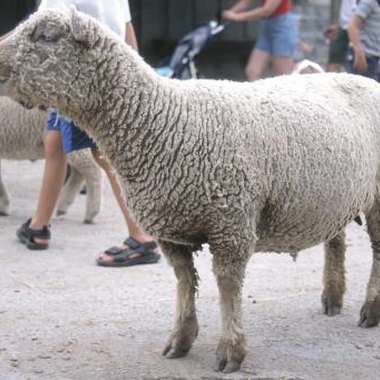 Petting zoos make excellent alternatives to traditional children's birthday parties. Not only are petting zoos filled with excitement for the kids, they are educational as well. Indiana is home to an abundance of petting zoos, many of which offer birthday party packages in honor of the birthday boy or girl.
Central Indiana
Located in the heart of central Indiana, the Indianapolis Zoo (indyzoo.com) offers birthday party packages in its kid-friendly petting zoo. The Indianapolis Zoo offers year-round party packages that can accommodate up to 25 guests, including the guest of honor and his parents. Various party packages area available, which include access to the petting zoo, treats for each guest and complimentary ride passes. Also serving the Indianapolis area, Petting Zoo Rentals (pettingzoorental.com) allows parents to rent the equipment and animals they need to host their own petting zoo birthday parties. Petting Zoo Rentals leases animals and equipment based on date and length of party, and packages can be customized to fit each customer's needs.
Eastern Indiana
Located in Fort Wayne, Indiana, the Fort Wayne Children's Zoo (kidszoo.org) specializes in children's activities and includes a variety of birthday party packages. The petting zoo is home to an assortment of live animals in a kid-friendly and family-oriented environment. Birthday party packages can be designed to accommodate up to 20 guests and admission to the zoo is included. Located in the village of Albion, the Black Pine Animal Sanctuary (blackpineanimalpark.com) features an array of exotic animals in its petting zoo and offers birthday party packages that can be customized to accommodate up to 20 guests. Packages include admission to the park for all guests and a special treat for the guest of honor.
Northern Indiana
Located in the northern Indiana city of South Bend, the Potawatomi Zoo (potawatomizoo.org) features birthday party packages for children ages 4 and up. Birthday party packages include entry to the Potawatomi Zoo's petting zoo, animal-themed games and souvenirs for the guest of honor and guests. Also located in South Bend, Matthy's Farm Market (matthysfarmmarket.com) features a working vegetable farm and kid-friendly petting zoo that is available for private party rental. Packages include use of the on-site playground and corn maze.
Mobile Petting Zoos
Honey Hill Farm (honeyhillfarm.net) serves locations throughout the state of Indiana and offers petting zoo packages for parties big and small and will bring the party right to the guest of honor's home. The mobile petting zoo features a variety of exotic animals and is approved by the Kentucky, Ohio, and Indiana Departments of Agriculture. Giddy Up and Go (giddy-upngo.com) serves locations throughout Indiana and offers pony rides in addition to its mobile petting zoo. Animals range from domesticated to exotic, and parties can be customized based on need.
Resources
Photo Credits
Hemera Technologies/Photos.com/Getty Images