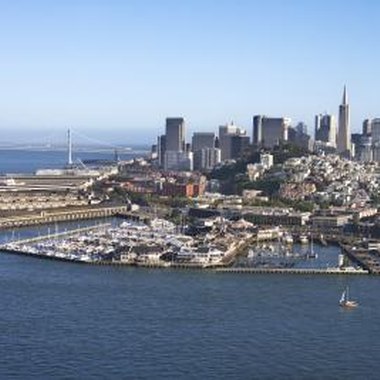 Some of San Francisco's most deluxe hotels put out the welcome mat for travelers of the four-footed persuasion. Not to be outdone, less-expensive properties also are opting to allow pets. From the fanciful frivolity of Fisherman's Wharf to the man-made canyons of the city's dynamic downtown, it is possible to find a warm, comfortable bed for your pet. You just might spoil him in the process.
Fisherman's Wharf
The backdrop of San Francisco Bay, with its infamous Alcatraz Island, makes Fisherman's Wharf one of the most photogenic parts of San Francisco. When the sourdough bread comes out of the ovens and the crab pots are steaming away, it also is one of the most aromatic. Sheraton Fisherman's Wharf Hotel welcomes your four-legged best friend as long as he doesn't weigh more than 80 lbs. There's no extra fee but there is a pet waiver. Another option is the Wharf Inn, a boutique, retro-style property that allows two pets per room with payment of a nightly fee. Both are within blocks of Pier 39, Pier 33 and the open green space at Fort Mason, which has an off-leash area for well-mannered dogs. (ref 1, see pet policy about three quarter of way down) (ref 2, see guest rooms for pet statement)
Downtown San Francisco
Upscale properties in San Francisco's downtown district make a point of pampering your furry companion. The legendary Mark Hopkins, sitting on the crown of Nob Hill since 1926, welcomes pets with a one-time fee. This is the home of the 19th-floor Top of The Mark lounge and restaurant, offering a panoramic view of the city. Spoil your dog with the Heavenly Dog package at the Westin St. Francis in Union Square. This posh package includes your pet's own bed and duvet, bottled water with silver drinking bowl and dog treats. Owners are treated to a giant chocolate chip cookie and a book about the hotel's history called "Francis: The Earthquake Dog." Also included is a list of the dog parks and walks in the area.
Ocean Beach
Hotels and motels along San Francisco's western shoreline that allow pets are rare. There are fewer properties to begin with and many are bed and breakfasts and privately owned small motels. The Ocean Park Motel of San Francisco is an exception. Located one block from the San Francisco Zoo and the sands of Ocean Beach, this is a vintage 1930s motor hotel, complete with old-fashioned neon sign. Rooms are individually designed in art deco style and surround a garden courtyard and deck with hot tub. Small dogs are welcome with a nightly fee. Take you dog for a run at the off-leash area at Ocean Beach or at the dog park at Fort Funston, about a mile south of the Ocean Park Motel on the other side of the zoo.
The Presidio
The Presidio on San Francisco's northwestern end is listed as a National Historic Landmark District. Once a military post, it was turned into a national park in 1972. Crissy Field is just north of the Presidio grounds and fronts San Francisco Bay and the Golden Gate Bridge. This open green space is inviting to picnickers, kite fliers and dog owners. Parts of Crissy Field are off-leash areas. Travelodge at the Presidio and the Marina Motel are both pet friendly and moderately priced. The latter offers a package including doggy treats, coupons for Judy's Cafe, which allows dogs in its outdoor dining area, and complimentary parking.
Photo Credits
Thinkstock/Comstock/Getty Images