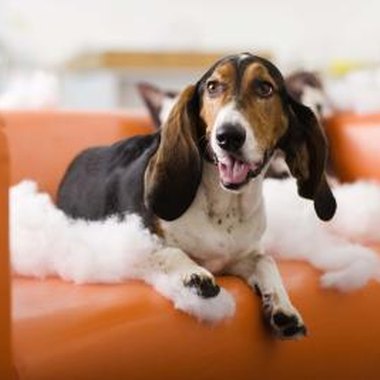 If you're heading to the southernmost point in the continental US with your dog or cat, you'll find plenty of pet-friendly lodging in Key West, Florida. The laid-back town's motto is "Come As You Are," and that means with animals in tow in many places. With beaches and parks dedicated to dogs and a variety of outdoor restaurants and bars that allow pets, you may find that you and Fido never want to leave the unique enclave of Key West.
Caribbean House KW
Located in the heart of Bahama Village, two blocks off Duval, is the colorful Caribbean House KW. The lively guesthouse welcomes pets of all shapes and sizes for no charge, but it does limit children to those 12 and over. The 10 rooms are all uniquely decorated, and Hemingway's House is right around the corner. Complimentary tea and coffee are served daily, and each room has a refrigerator and free wireless Internet access. Take your pup out with you for walks around the neighborhood, but make sure he doesn't go chasing after the six-toed cats or the roosters who roam the streets.
Sheraton Suites Key West
Conveniently located near the airport, the Sheraton Suites Key West offers pet-friendly accommodations right across from Smather's Beach. The hotel offers a free shuttle to lively Duval Street, and a concierge can help you plan animal-friendly outings. The Sheraton Suites Key West allows one pet up to 40 lbs. per room. There is no fee for them, but dogs cannot be left alone in the hotel room. However, in Key West, your dog will be welcome at many bars and restaurants, and Dog Beach welcomes mutts of all shapes and sizes.
Old Town Manor
In the heart of the historic district of Key West is the Old Town Manor, a charming bed and breakfast built in 1886. The hotel is extremely pet-friendly, going so far as to offer them soft LL Bean dog beds, food and water dishes, chewy treats and pick-up bags. The owners' own pets, Izzy and Ms. Kitty, will greet you when you check in, and you may see them around during the complimentary healthy breakfasts served each morning. The concierge will help you plan activities with your animals, or you can join in their Doggy Paddle Club, where water-loving pets and owners can go kayaking and swimming together.
Doubletree Grand Key Resort
The Doubletree Grand Key Resort is one of the most pet-friendly hotels in the tropical town, and it allows up to two cats or dogs under 75 lbs. There is a $75 fee per stay, but the resort has tons of recommendations for animal lovers, from the off-leash Higg's Beach Dog Park to Lazy Dog Outfitters that organizes kayak trip and boat charters for people and their pets. The resort offers free shuttles to the beach, Mallory Square and the airport, and many of the rooms and suites are located poolside, where you'll find cabanas that offer massages. You can also let your pets sniff around the 2,500-gallon saltwater aquarium with local fish and reef life.
Resources
Caribbean House KW, 226 Petronia Street, Key West, FL 33040, 877-296-0999
Sheraton Suites Key West, 2001 South Roosevelt Blvd., Key West, FL 33040, 305-292-9800
The Doubletree Grand Key Resort, 3990 S. Roosevelt Blvd., Key West, FL 33040, 305-293-1818
Photo Credits
Jupiterimages/Brand X Pictures/Getty Images