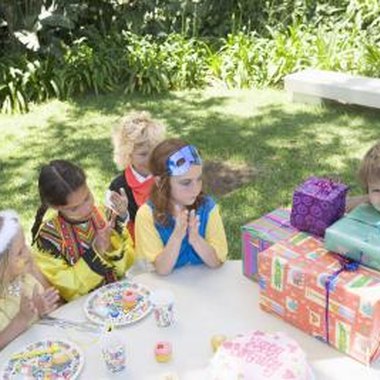 Peter Pan is a beloved children's tale, about a young boy who could fly and refused to grow up. Peter Pan, along with the Lost Boys, Tiger Lilly, Tinker Bell, and human children, Wendy, Michael and John, went on many adventures throughout Neverland. Make your next gathering a Peter Pan-themed party and celebrate this favorite fairytale adventure.
Invitations
Invite your guest in style with a clever theme invitation. Prepare your own messages or invitations in a bottle for a fun and whimsical effect. You can purchase inexpensive small corked bottles from craft stores. Write the party details on a card stock scroll, include a map and pour in some fairy dust (glitter) and hand deliver. Another fun idea is to print your invitation onto a Peter Pan cap. Cut a triangle-shaped hat from a piece of green felt; cut a small slit in the hat and glue feather inside slit. Glue hat onto a piece of card stock and write the party details on back of the card stock.
Activities and Games
Divide the guests into Lost Boy and pirate teams and enjoy some friendly competition. Walk the Plank is a fun way to test children's balancing skills. Set up two rows of wood planks or bricks a few meters long. Have each team line up behind the plank and cross. The first entire team to get across the plank is the winner. A treasure hunt is another fun pirate-themed party game; simply hide gold coins and other goodies in the yard. Or, send teams off in search of key items such as Tinker Bell's fairy dust or Captain Hook's Hook, in a Peter Pan-themed scavenger hunt.
Decorations
Separate your party into the different regions of Neverland. Set up stations in each corner of your backyard or party area. For example, have a pirate's cove filled with nautical-themed decorations, such as ropes, life savers and pirate hats. Convert an old treehouse into the Lost Boy's lair. Set up one corner of the yard into the Mermaid Lagoon, decorating it with sea shells and other tropical decorations. Hang a large banner which reads "Welcome to Neverland," for guests as they enter the party.
Dress Up and Crafts
Theme parties are great reasons for guests to dress up. Either assign roles or characters to individual guests or let them come as their favorite characters. Key characters include: Peter Pan, Wendy, Michael, John, Captain Hook, the Lost Boys, Peter's shadow, Tiger Lily, Tinker Bell and the pirates. Guests can also create their own costumes and accessories as a party activity. Craft Peter Pan hats from green felt sheets and feathers, or use tissue paper and glitter to make fairy wings. You can also purchase eye patches and bandanas from party or craft stores.
Photo Credits
Pixland/Pixland/Getty Images