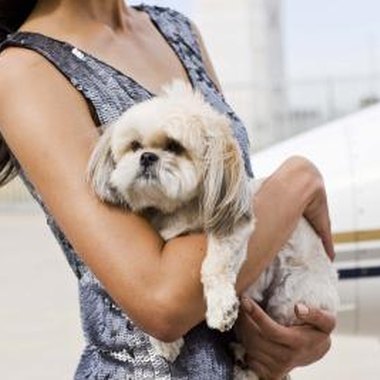 The next time you have to go out of town and leave your pooch behind, there's an alternative to kenneling your pet at the veterinarian or hiring someone to visit your home multiple times each day: a dog hotel. New York City is home to pet-boarding establishments that more closely resemble upscale hotels than they do a kennel.
New York Dog Spa and Hotel
Featured on Season 10 of "The Apprentice," New York Dog Spa and Hotel has two New York locations for your dog to stay at when you're away. All dogs have their own confined space, ranging from a typical kennel cage to a private suite, but staff brings dogs of similar size and temperament out to play in large play rooms throughout the day. For an additional fee, they will bathe and groom your dog at the on-site spa just prior to pick-up time so you can come home to a happy, clean pet. New York Dog Spa and Hotel welcomes dogs between the ages of five months and 12 years old.
Happy Paws Pet Resort
At the Happy Paws Pet Resort, you can choose to have your pet stay in an extra-large kennel space or in a private room, replete with his own doggie-sized bed and blankets with daily turn down service. Dogs are fed three times a day by trained staff and you can peek at your pup throughout the day via the live web cam. Happy Paws can make arrangements to pick up and/or drop off your dog at your home. Happy Paws also makes retail deliveries of dog food and supplies in the Manhattan area.
Ritzy Canine Carriage House
At the Ritzy Canine Carriage House, there are no cages; instead, cats and dogs are treated to their own private suites with custom-designed beds, toy chests and even a personal television and video library. For your feline companion, each cat bed is made from plush fabrics, and the litter boxes are kept in a separate room from the play and sleep areas to maintain a clean environment. The room-service menu includes homemade pet foods made with fresh vegetables and basmati rice, and you can book grooming and/or massage services for your pet during his stay.
Biscuits and Bath
Biscuits and Bath encourages canine togetherness; while private areas, known as corrals, are available upon request, most dogs participate in sleepovers, where all dog beds are spread out in the same room. Staff supervises dogs around the clock to maintain their health and safety, and "train and play" classes are available to help your dog have fun while learning new commands.
Paws in Chelsea/Soho
Both Paws in Chelsea and its sister pet hotel Paws in Soho are cage-free facilities for dogs, so your pet is always free to roam around and stretch her legs during her stay. Trained staff supervises all dogs 24 hours a day, focusing on giving each dog individual attention and plenty of affection. While cats are kept in oversized cages, they are let out frequently to climb around the cat condo and play with staff members.
Photo Credits
Jupiterimages/Goodshoot/Getty Images