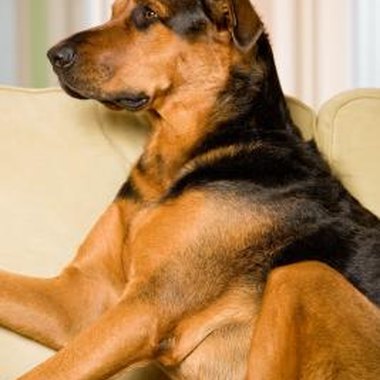 Nashville, America's music city, attracts family visitors to the Grand Ole Opry and Museum, The Country Music Hall of Fame and the city's many historic plantation houses and music industry sites. Ryman Theater, known as "The Mother Church of Country Music" has been staging concerts and shows for more than 100 years. For some, where the family goes, Fido goes. But finding affordable pet-friendly accommodation in Nashville can be a challenge. Most pet-friendly accommodations set weight limits for pets or levy daily charges of as much as $25 or more. And some city center hotels offer better value pet arrangements than motels farther out. Compare the pet policy fine print to find the best deals.
Loews Vanderbilt Nashville
Loews promotes its hotels as "the most pet friendly around." The group makes a one-time charge per stay of around $25 for up to two pets per room. Gift packs for pets include bowls, tags and treats, and the hotel offers a Loews Loves Pets room service menu of services, treats and accessories. Guests can arrange dog walking and sitting services. The group's Vanderbilt Nashville hotel is across the street from the main entrance of Vanderbilt University and less than two miles from the Country Music Hall of Fame and the Ryman.
Sheraton Nashville Hotels
Sheraton's two Nashville hotels, the Sheraton Downtown and the Sheraton Music City, are both pet friendly. The hotel sets a weight limit of 50 lbs per pet but does not charge any fees. The downtown hotel is a 28-story, atrium-style hotel. The Music City hotel is surrounded by 23 landscaped acres and offers live music, a 24-hour market and both indoor and outdoor pools. Rates in 2010 were affordable, with starting prices of around $120, subject to weekly and seasonal variations. The hotels feature a trademarked pillow-top bed which they also offer in a doggie version.
La Quinta Inn and Suites Nashville Airport/Opryland
The La Quinta Inn and Suites is a pet-friendly option near the Opryland Convention Center that does not charge for its pet guests. It is within a few minutes' drive of the Grand Ole Opry, Nashville's famous Bridal Path Wedding Chapel, the Country Music Hall of Fame and the General Jackson Showboat. This economy hotel (rates from less than $70) has a fitness center and outdoor pool. The hotel's free breakfast includes waffles as well as the usual cereals and juices.
Red Roof Inn Nashville Airport
The Red Roof Inn allows one well-behaved family pet per room. The hotel does not levy a fee or set weight limits but reminds guests that they are liable for any damages. Guests are required to notify the front desk when they arrive with a pet. The Red Roof Inn offers free shuttle transfers to Nashville International Airport, less than a mile away. The hotel is also within minutes of downtown Nashville and its attractions via I-40.
Resources
Sheraton Nashville Downtown Hotel; 623 Union Street; Nashville TN 37219; 615-259-2000
Sheraton Music City Nashville; 777 Mcgavock Pike; Nashville TN 37214; 615-885-2200
La Quinta Inn and Suites Opryland; 2345 Atrium Way; Nashville TN 37214; 615-885-3000
Red Roof Inn Nashville Airport; 510 Claridge Dr; Nashville TN 37214; 615-872-0735
Photo Credits
Jupiterimages/Photos.com/Getty Images