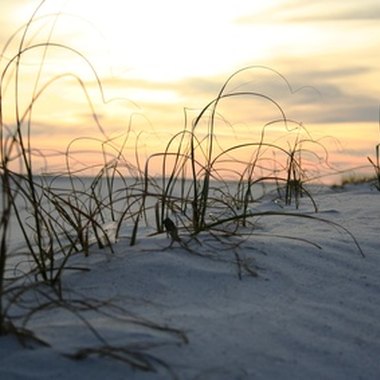 The outdoor offerings in Pensacola make the area a popular destination for pets and their owners alike. The area encompasses 52 miles of white sandy beaches; the world's largest artificial reef; and plenty of dining, shopping and entertainment. Don't miss the Bayview Dog Park and Beach to the east and the Lexington Terrace Dog Park on the city's west side.
Motel 6
Motel 6 welcomes "well-behaved" four-legged guests free of charge. In Pensacola, three recently refreshed Motel 6 locations offer pet-friendly accommodations: North Davis Highway, Pensacola Boulevard and Plantation Road. Rooms have blue carpet and cream-colored walls livened up with a punchy bedspread in all the colors of the rainbow. A side table provides ample space for working or eating. The motels have outdoor swimming pools with sundecks. You can pick up any forgotten pet necessities at the centrally located PetSmart at 6251 North Davis Highway.
Paradise Inn
The Paradise Inn on Pensacola Beach welcomes your pets for $25 each (as of November 2010). You won't miss the inn's hand-carved sun sign as you drive by. The khaki-colored building has forest green accents and wrought-iron benches and palm trees along its front porch. Your pet can join you at the fishing pier located within walking distance of the hotel. Rooms in the 55-suite inn feature elevated ceilings and a black and white color scheme with tropical-colored quilted bedding. Bistro-type seating with umbrellas and chaise lounges surrounds the oval-shaped outdoor pool. A casual bar and grill serves meals on-site. If you plan to spend a long time away from your room, contact Wright Pet Care for a house call -- its staff will provide dog walking, sitting or taxi service to a local groomer.
Residence Inn
The bay-front Residence Inn by Marriott offers pet-friendly accommodations for an additional $100 per stay (as of November 2010). Spacious guestrooms include full-sized kitchens with stainless appliances and furnished areas for living, dining and sleeping. The warm décor features a fall-inspired color palette. The Residence Inn serves a buffet breakfast daily and hosts weeknight receptions with beer, wine and appetizers. The tree-lined property is a pup's dream for potty breaks. When you leave your room, remember the hotel prohibits unattended pets -- drop yours off at the Pensacola Pet Resort on East Gadsden Street for grooming and doggy daycare, with indoor and outdoor playgrounds, when your plans don't include your four-legged companion.
TownePlace Suites
Your pet can join you at Marriott's recently built TownePlace Suites near the Pensacola Airport for a $100 fee (as of November 2010). The hotel offers spacious guest accommodations with separate sleeping, eating and living areas. Gourmet kitchens have granite counter tops and stainless steel appliances. The living area has couches and armchair seating in vibrant primary colors. A bold throw blanket brightens the crisp white comforter on the platform bed situated next to a work desk with task lighting. The hotel's business and fitness centers are open around the clock. An outdoor pool opens seasonally. A Petland store located a half-mile away at 6235 North Davis Highway sells pet food and supplies.
Photo Credits
sandy beach scene on pensacola beach image by Edward Cooper from Fotolia.com