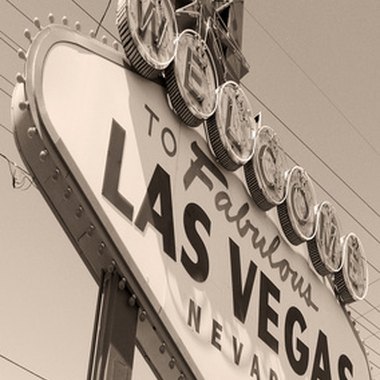 With just one casino property offering pet-friendly accommodations on the Strip -- in the camping area of Circus Circus -- you may be tempted to leave your pet at home when planning your trip to Las Vegas. There's no reason your four-legged friend should have to sit this one out. You'll find one luxury option on the Strip and plenty of affordable options near attractions you and your pet will both love.
On the Strip
Your pet of 25 lb. or less can join you at the Four Seasons Hotel on the Las Vegas Strip, free of charge. The gaming-free resort has breathtaking views of the casino lights below. Charming guestrooms have striking patterned carpet and a coordinating bed "crown" and skirt in seafoam green and gold. The stunning outdoor pool is flanked by columns and palm trees, and a butler will deliver you ice water and fresh fruit and give your sunglasses a quick cleaning. The pampering full-service spa opens daily from 8 a.m. to 8 p.m. The nearby A-V.I.P. Pet Resort offers hotel or airport pickup if you want to treat your dog to a play day in the outdoor exercise yards and indoor suites.
Near the Strip
You can bring your dog of 25 lb. or less to the Trump International Hotel Las Vegas for a $200 non-refundable fee (as of November 2010). The lavishly decorated guest quarters range in size from a spacious studio to a sprawling three-bedroom penthouse suite. Rooms feature chef kitchens, marble baths with whirlpools and floor-to-ceiling windows with panoramic mountain or south city views. If you have plans for a long stay away from your hotel, drop your dog off at the Camp Bow Wow doggy daycare to have fun in the indoor and outdoor playgrounds, just three miles from the hotel on South Valley View Boulevard.
North Las Vegas
The Lucky Club Casino Hotel not only welcomes your pet free of charge but also provides an enclosed dog park as one of its on-site amenities. The property caters to truck drivers and the budget conscious with affordable rooms and value-priced meals. You'll get a 10 percent discount off the already affordably priced food at Lucy's Bar and Grill as a hotel guest. The Southwestern-style rooms recently underwent a renovation. After your dog gets dirty in the dog park, stop by the Chaparral Animal Spa, less than a mile from the casino, for a quick grooming.
Budget-Priced Motels
The Las Vegas area has four Motel 6 locations that welcome "well-behaved" pets free of charge. Locations include Fremot Avenue downtown, Boulder Highway, East Tropicana Avenue and South Dean Martin Drive. The recently refreshed properties have basic furnishings and a bold blue color scheme. The 7.75-acre public Barkin' Basin Park for dogs at Tenaya and Alexander streets is 10 miles or less from all of these motels.