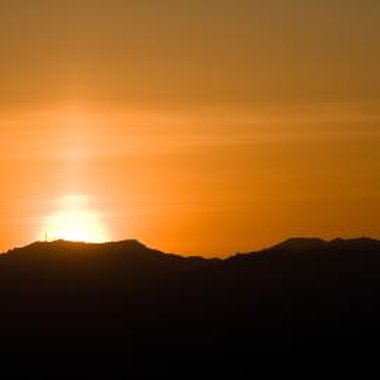 Santa Barbara is a picturesque beach city located near the Santa Ynez Mountains and just two hours north of Los Angeles. Guests stopping in this California city will find a number of pet-friendly lodging options available to them. In addition, Santa Barbara had several areas, as of 2010, where dogs could play off their leashes including the sands just past Arroyo Burro Beach, five county parks, and two city parks.
Fess Parker's DoubleTree Resort
Your pet will not only be welcomed at this DoubleTree Resort, but it will also receive a special treat bag during its visit at this sprawling 24-acre resort, which is located across a road from the beach. This hotel, which has 338 rooms and 22 suites, was developed in 1986 by Hilton and Fess Parker, an actor who starred in the 1960s-era Davy Crockett television series. A dog-friendly beach is a quarter of a mile from the resort and there are also nearby walking trails where you can take your pooch. The DoubleTree charges a non-refundable $25 per night per pet and does limit the number of pets per room or have a size restriction. Additionally, the resort has a room-service pet menu.
Secret Garden Inn & Cottages
The Secret Garden Inn & Cottages is a bed & breakfast that offers pet lodging in six of its cottages -- the Garden, Hummingbird, Oriole, Kingfisher, Nightingale and Wood Thrush. As of 2010, the charge for pets was $20 per night. The Secret Garden Inn & Cottages does not have any limitation on pet size and two to three pets are allowed per unit depending on the size of the cottage and the animal. Your furry friends are not allowed in the main house, nor are they to be left alone in a room, and dogs must be on a leash while on the property. Each room features free wireless Internet access, and in the evenings, the inn has a wine and cheese reception. The complimentary breakfast is buffet style and features quiche made from the owner's French recipe.
Best Western Beachside Inn
The 60-room Best Western Beachside Inn offers accommodations across the street from the beach. Up to two dogs under 80 lbs. are allowed in designated pet-friendly rooms.The Beachside Inn also allows cats or birds, but at its discretion. The daily charge for pets as of 2010 was $20, with a weekly maximum of $100. The hotel serves a continental breakfast to its guests and its rooms feature complimentary high-speed Internet access.
Hotel Mar Monte, Managed by Hyatt
This dog-friendly Spanish colonial style resort, which dates back to 1931, has 173 guestrooms and sits across the road from the ocean. The Hotel Mar Monte charges a $75 non-refundable fee per dog, with a limit of two small pooches per room; cats are not allowed. This hotel has a restaurant and spa on site. Rooms feature beds with down duvets, original artwork on the walls and free wired and wireless high-speed Internet access.
Photo Credits
Jupiterimages/Photos.com/Getty Images