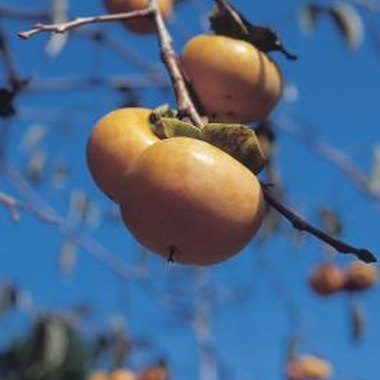 The persimmon is a fruit native to the United States, but it is not necessarily well-known. But as of the date of publication, three places in the U.S. celebrate the persimmon with annual festivals, including Mitchell, Indiana. The Mitchell Persimmon Festival usually lasts a week each September and includes contests, a parade and many types of food and attractions.
Cooking Contests
The main event of the Persimmon Festival might just be the persimmon pudding contest. This pudding is a local specialty which resembles pumpkin pie filling. It is made with sugar and usually with various spices, and it uses cream or buttermilk for the liquid component. The persimmon cooking contest includes two major prizes. The first prize is awarded for the highest judged persimmon pudding. The second prize goes to the novelty persimmon dessert that has received the highest marks.
Grand Persimmon Festival Parade
One highlight of the yearly Persimmon Festival is the Grand Persimmon Festival Parade. For a couple of hours on the Saturday of the festival, local bands, businesses and entertainers wind through the center of town in this grandiose parade. Bring your children out to see the beautiful floats and catch the inevitable candy that will be thrown (and it's enjoyable for adults, too).
Other Contests
Among the many contests the Persimmon Festival offers, there is a chili cook-off. There are also beauty pageants for girls of all ages. Titles awarded include Mini-Miss, Little Miss and Junior Miss Persimmon; to top it off, there is a Persimmon Festival Queen. A family softball tournament, the Annual World Persimmon Series, is another event.
Events and Attractions
Good food and good entertainment are both present at the Persimmon Festival. There is a food court where you can buy numerous delicacies. Also, delicious fund-raising meals, such as the fish fry, the lasagna dinner, the pork dinner and pancake breakfast, take place throughout the week. Daily entertainment at the Main Street Stage includes various local bands, music by the Mitchell Singers, karaoke, and dances by the Mitchell Dance Team. The exhibits you can visit include arts and crafts, historic cars and antique tractors. There are also many carnival rides to enjoy at the festival.
Resources
Photo Credits
Hemera Technologies/Photos.com/Getty Images