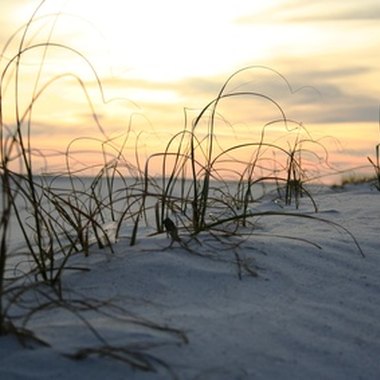 Located at the western tip of the Florida Panhandle, Pensacola lies close to Interstate 10, which runs from Santa Monica, California, to Jacksonville, Florida. Travelers looking for accommodations in the Pensacola area can choose from several hotels that are within a mile of an I-10 exit. These hotels generally fall into the mid-range in price, and include a few all-suite properties.
Exit 7
This westernmost exit for the Pensacola area provides access to State Road 297, Perdido Key and the Pensacola Naval Air Station. Four hotels -- Comfort Inn, Country Inn & Suites, Holiday Inn Express Pensacola West and Quality Inn West -- lie within a mile of Exit 7. The two-story, 62-unit Comfort Inn offers guests a business center, an exercise room and a seasonal outdoor swimming pool, while the smoke-free Country Inn & Suites, with 63 units, provides business and fitness centers along with a heated indoor pool. The three-story, 64-unit Holiday Inn Express serves a complimentary hot breakfast buffet each morning, and the two-story, 93-unit Quality Inn West offers microwaves and compact refrigerators in all rooms and suites. None of these hotels has an on-site restaurant.
Exit 10
I-10's Exit 10 leads to U.S. Highway 29 and the city of Pensacola and its suburb of Cantonment. The Ramada Pensacola, renovated in 2007, lies roughly 1/2 mile south of Exit 10 on Pensacola Boulevard and offers a variety of facilities and services, including a seasonal outdoor swimming pool, business and fitness centers and a complimentary continental breakfast.
Exit 12
Motorists leaving I-10 at Exit 12 can connect with Interstate110, as well as with local roads leading to downtown Pensacola and Pensacola Beach. The only hotel within a mile of the exit is InnPlace Suites, an extended-stay hotel convenient to both the Pensacola Airport and University Mall. Accommodations include studio and penthouse suites, all of which have fully equipped kitchens and high-speed Internet. Other hotel facilities and services include a seasonal outdoor swimming pool and complimentary breakfast.
Exit 13
Exit 13 off I-10 leads to Florida State Road 291, also known as Davis Highway in the Pensacola area, and offers a fairly wide selection of hotels. These include the 115-room Comfort Inn on North Davis Highway, the 114-unit Holiday Inn Pensacola-N. Davis Highway, the 130-unit La Quinta Inn Pensacola, and TownePlace Suites Pensacola, a 98-unit extended-stay hotel. La Quinta allows pet owners to keep their animals with them in their rooms for no additional fee.
Exit 17
I-10's Exit 17 in Florida leads to U.S. Highway 90 and Pensacola's bayfront. Close to the shores of Escambia Bay sits the 142-unit Quality Inn & Suites Pensacola, the only hotel adjacent to this exit. The hotel offers a seasonal outdoor swimming pool, business and fitness centers, and a complimentary continental breakfast.
References
Photo Credits
sandy beach scene on pensacola beach image by Edward Cooper from Fotolia.com