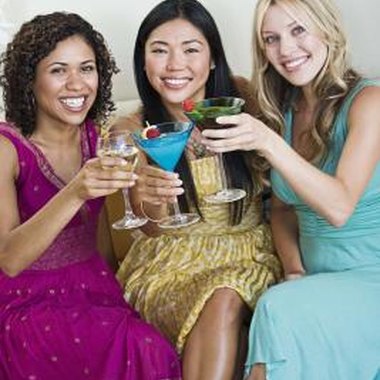 Partylite is a company that allows direct sales. This type of sale is best done with groups of people in a party setting. When you hire a Partylite hostess to help you throw a party at your home, you are expected to have games and entertainment for the guests. Games get people excited about the Partylite products and increase sales revenue.
Scent Guessing Game
The Partylite products are mostly composed of scented candles. One way to get the party started is to pass around individual candles, each in a small bag, and ask each guest to guess the scent of the candle. Have them write down their answers to keep track of the candle names. This can be repeated with several candles. The guest that had the most correct gets a prize (maybe a free candle) at the end of the game.
Unravel a Gift
Before the start of the party, wrap small tealight candles into a big ball of streamer paper. Then, have the guests sit in a circle and pass the ball around, having each guest unwrap a layer of the ball. If the guest happens to unwrap a candle votive, he or she may keep it as a prize. Continue to pass the paper ball around until it has been completely unraveled. You can also wrap different small prizes into the ball to keep it interesting.
Raffle Game
This is a game that can be played near the end of the Partylite gathering. Write down several different prizes on individual pieces of small paper squares and place them into a small box or jar. These prizes could include free Partylite products, favors or a free Partylite bash. Add some blank pieces of paper into the jar or box and cover it so that nobody can see inside. Each guest will pull out a piece of paper. Some may win a prize and some might not.
Question Game
The question game is good to play if your guests are quiet or shy. Give prizes to each guest that asks you a question related to a Partylite product. The prizes can be small, like a piece of candy or a raffle ticket for a bigger prize at the end of the show. This game will get the guests to interact with the Partylite host and get more interested in the products. The host should answer each question and also add a selling point for the product.
Resources
Photo Credits
Jupiterimages/Brand X Pictures/Getty Images