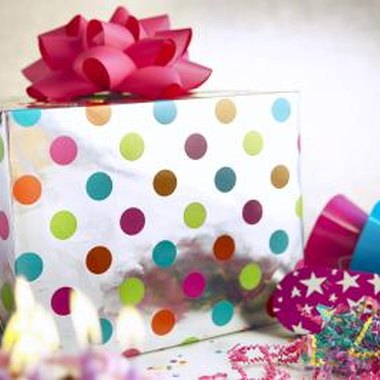 Throwing a party in Gainesville, Georgia, can be relatively simple. The hardest part may actually be deciding which of the town's many party venues to use. Located roughly 50 miles northeast of Atlanta, Gainesville has a variety of party places to suit almost every age group. Kids will delight in the fun they can have at water parks, museums and fun centers. The city is also home to an arts center that is ideal for the older crowd.
Hands-On Museum
Giving kids a fun learning experience on their next birthday is easy at Gainesville's Interactive Neighborhood for Kids, or INK (inkfun.org). Four different sections of exhibits give children the chance to immerse themselves in adult-like situations, from learning what it takes to be a doctor to making a trip to the bank and post office. Party packages give one birthday child, 15 guests and an unlimited number of adults entrance to the museum. Birthday boys and girls can even make a wish list of items from INK's gift shop to give their guests on-site gift ideas.
Making a Splash
Georgia summers can make outdoor parties hot and humid, but Frances Meadows Aquatic Center (gainesville.org/birthday-parties) has the perfect solution: a "Splash Zone" area to help cool things down. Two three-story water slides, interactive water features and indoor pools are all available as part of the venue's party rental packages. In addition, the center offers food packages and time to celebrate in its own decorated party room. Hours and availability vary by season, so be sure to plan parties in advance.
Fun Central
Parents can breathe a sigh of relief when they turn a young crew of birthday party kids loose inside Gainesville's Monkey Joe's (monkeyjoes.com). Open to kids 12 years old and younger, this party venue lets little ones slide, bounce and jump on the facility's many inflatable attractions. Meanwhile, parents can enjoy themselves while Monkey Joe's staff takes care of the party set-up and cleanup. The adult area offers grownups access to amenities such as free high-speed wireless Internet and flat-screen TVs. Party packages can accommodate up to 24 kids, but the site also offers after-hours party options for larger groups.
Visual Arts Center
In need of a venue that is both unique and adult-oriented? Gainesville's Quinlan Arts Center (quinlanartscenter.org) is home to rotating visual art exhibitions that may provide the perfect backdrop for receptions, showers, parties, reunions or meetings. Guests may choose from the center's different galleries, classroom and studio space for their event. Upon request, Quinlan provides party planners free early set-up, a changing room and a complimentary coat check room. Free access to the center's state-of-the-art audio system gives planners the option of providing their own music for an event. Up to 300 guests may attend with no additional or hidden fees. Planners also have the liberty of choosing their own caterer.
Photo Credits
Hemera Technologies/AbleStock.com/Getty Images