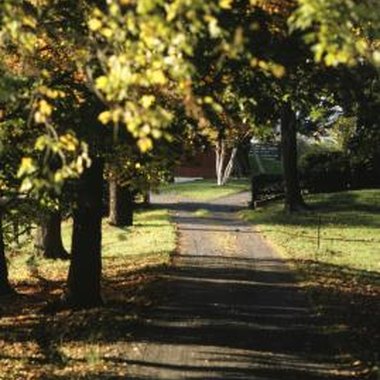 Chadds Ford is a semi-rural township in Pennsylvania outside of Philadelphia. It is a picturesque area known for its wooded landscapes along the Brandywine River and for its rich colonial history dating back to the early 18th century. When you are looking for party venues in Chadds Ford, book sites that take advantage of the character of the community.
Museums
Chadds Ford has several museums, and one, the Brandywine River Museum (brandywinemuseum.org), rents out space for parties. The facility combines historic and modern architecture. Its art exhibits are open to your guests. The museum accommodates 600 standing guests in the lobbies and gardens and 80 seated guests in the museum restaurant. You will have to work with the on-site caterer, which provides everything from a varied menu to table linens, floral arrangements and recommendations for entertainment.
Inns
Bed and breakfast establishments dot the Chadds Ford community and make elegant party venues. The Pennsbury Inn (pennsburyinn.com) was built in 1714 and is listed on the National Register of Historic Places. Outside, it features eight acres of gardens and trails for your party. Inside, the inn has five different parlors that are all suitable party venues. The inn accommodates parties with up to 150 guests. You'll need to hire your own caterer.
Country Club
When you want to take advantage of Chadd Ford's beautiful countryside but don't want to go the historic route, book the country club in town, the Concord Country Club (concordcountryclub.com). The large club house looks like a charming country mansion and has a ballroom with golf course views that seats 220. Smaller venues in the club house are also available for parties of up to 50. The country club has its own kitchen and staff to provide food for your party.
Restaurants
If you have a restaurant in mind for your party venue, Chadds Ford has plenty of elegant eateries with character and panache. For example, The Gables at Chadds Ford (thegablesatchaddsford.com) is a large, elegant restaurant in a renovated barn that dates back to the late 1800's. It features a banquet room and large patio and serves as a party venue for everything from weddings to luncheons. Book the space for your party and use one of the existing banquet menus or work with the staff to come up with your own.
Photo Credits
DC Productions/Valueline/Getty Images