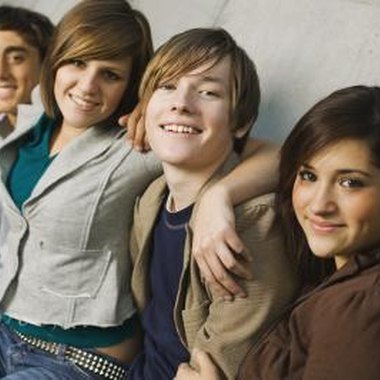 If you're the parent of a teen boy who wants to host a party for all his friends, you're responsible for two very important things: making the party cool and making sure they never get bored. Only you know your kid. He may be content with munchies in the family room, surrounding a video game system with some of his favorite friends. But the more original you make it, the better chance you have of establishing your rep as the coolest parent in the neighborhood.
Themes
Some parties come with their own themes, such as a Halloween costume party or video game release party. If your son is open to it, you can get a little more creative with your themes, creating it around some of his favorite interests. If his favorite movie is "The Breakfast Club," give him an 1980-themed party complete with retro arcade games like "Pac-Man," "Frogger" or "Space Invaders." Tap into that competitive spirit among the boys and give away prizes such as a Rubik's Cube or '80s vintage clothes, accessories or cassette tapes. Play synthesizer-heavy pop music and encourage the kids to come dressed in their flashy, most colorful best.
Activities
Maybe your son is a little more adventurous. Take him outdoors for a game of laser tag, an exciting ropes course or even a rock wall. Maybe your kid is an athlete. Get the party going with a fun game of football or basketball or street hockey. If you're trying to ward off the summer heat, host a pool party. This will take a lot of the pressure off of you to keep them entertained; you only have to supervise. Mix up virgin "mocktails" such as pina coladas for a tropical theme.
Entertainment
Rent or buy your son's favorite movie on Blu Ray and host a movie-themed party. Encourage guests to dress as their favorite characters, and play the soundtrack of the movie during a rousing battle of movie trivia. You may also do this with video games, depending on what your kid likes best. These kinds of themes keep your costs low because all the action takes place at your house, so you can give away prizes such as posters, CDs and DVDs for those revelers who rise above the rest in trivia knowledge or gaming skill.
Objectives
Engage all the participants into the party by establishing an objective in your overall theme. Separate the boys into teams and allow them to fight each other on a paintball course, race each other on a go-kart track or bowl for prizes. If you're really ambitious, you can host a scavenger hunt in the vein of "The Amazing Race," the television program that allows contestants to race each other all over the world. In your case, make a neighborhood race. Test their boundaries but keep it safe and fun. Use items such as baby food for the tasting challenges, and games such as wheelbarrow or egg races for physical challenges.
Photo Credits
Jupiterimages/Brand X Pictures/Getty Images