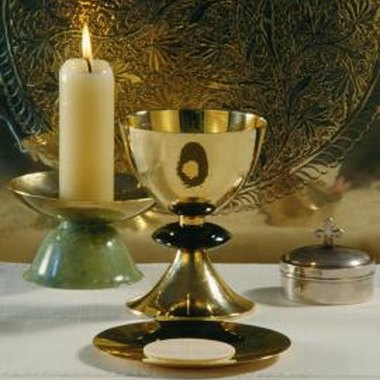 The first Holy Communion takes place when a child is about 7. It is one of the first benchmarks of a Catholic child's life, marking her induction into the church. Many families find this an excellent occasion for a party, but choosing the right theme for a toast during the party can be difficult. Considering several different themes can help you honor the child in the most appropriate way.
Milestones
For many children, the first Holy Communion is the first time they have been the center of attention of such a large group. By remarking in the toast upon other important milestones in the child's life -- such as his first day of school, or the first time he lost a tooth -- you can help him place this event along the spectrum of milestones in his thus far.
Family References
Making reference to the child's family is particularly appropriate during a party toast for a first Holy Communion, especially if you are not a member of the immediate family. Andrew Frothingham, author of "Great Toasts," suggests the following: "To the parents and godparents who have kept you safe and started you along the right path." This can easily be adapted to thank the parents alone, the godparents, the grandparents, and other members of the family, depending on the relationship of the speechmaker to the child.
Religious References
Religious references are also appropriate for a party celebrating a first Holy Communion. However, they should be kept brief and relevant, as the priest will already have addressed important aspects of the first Communion during his homily. Frothingham suggests "Welcome to the fellowship. We toast your calling," though this might be slightly too serious for a young child. You might adapt such a toast to welcome the child to being a full member of your church, for example.
Short Toasts
Whatever toast you decide to give at the party for a first Communion, it is best to keep it brief. The parents might choose to make a longer speech, or the child herself might speak, but extended family members and friends should focus on sending the child off into her religious life with best wishes and love, expressed briefly and meaningfully.
Photo Credits
Photos.com/Photos.com/Getty Images