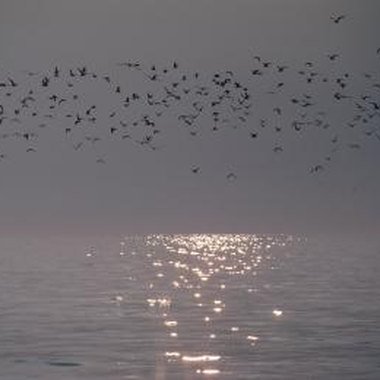 A piece of cake, ice cream and room to run make up the list of requirements for a toddler's birthday party. With its location on Lake Erie, between the cities of Cleveland and Sandusky, Vermilion, Ohio, offers creative places that fit the requirements for a toddler's ideal birthday party.
Beaches and Parks
Being located on Lake Erie means that Vermilion offers beach space to enjoy. Hold a spring or summer birthday party at Main Street Beach. Set up a picnic table with food on the observation deck or lay out blankets on the beach for some fun in the sand. Showse Park and Beach offers grassy areas along with beach access and a playground where you can hold a toddler's birthday party. Vermilion also offers multiple parks including Sherod Park, with two playgrounds for entertaining busy toddlers, West Breeze Park, with a playground and sand volleyball court, and Vermilion River Reservation, which provides a popular place for a birthday picnic and room for toddlers to run.
Restaurants
Take your toddler out to a local restaurant or ice cream shop for a small, tasty birthday. Invite a small group to enjoy sandwiches, milkshakes or an ice cream cone at Big Ed's Main Street Soda Grill (no website; 5502 Liberty Avenue, Vermilion; 440-967-4002). Fill up on chocolate and candy at Brummer's Homemade Chocolates and Candies (brummers.com). Windows allow children to see the chocolate being made in the factory behind the shop. Have an ice cream party at Granny Joe's Ice Creamatorium (no website; 5598 Liberty Avenue, Vermilion; 440-967-3663) which is open Wednesday through Saturday and offers more than 30 flavors of locally-made Toft's ice cream.
Other Activities
In the summer and fall, take your toddler's birthday party to a local farm and have a berry picking party at Baumhart Berry Farm (baumhartberryfarm.com). For another birthday idea, consider a visit to Romp's Family Fun Marina (romps.com) which offers a heated pool, snack bar, kids' play areas and an ice cream stand to entertain your toddler and guests.
Sandusky Attractions
Sandusky, Ohio, offers multiple attractions for a toddler's birthday party and is only a 30-minute drive from Vermilion. For a summer birthday, spend the day at Cedar Point Amusement Park (cedarpoint.com) which offers the Planet Snoopy area with rides for toddlers and other family-friendly rides throughout the park. For an additional fee, the attached Soak City provides water fun for toddlers. Great Wolf Lodge (greatwolfsandusky.com) contains a large indoor water park and other activities for toddlers to enjoy. If your toddler enjoys riding carousels, rent out the Parker Room at the Merry-Go-Round Museum (merrygoroundmuseum.org), and take party-goers on a tour of the carousel animals on display or for a ride on the museum's carousel. The museum offers free admission for children aged 3 years and younger.
Cleveland Attractions
Less than an hour away, the large city of Cleveland offers multiple party options for toddlers. Visit the Cleveland Metroparks Zoo (clemetzoo.com). Birthday party packages appeal to children aged 2 through 12 and include lunch. The Children's Museum of Cleveland (clevelandchildrensmuseum.org) offers an educational party option for toddlers. Party packages allow guests to rent a room for up to two hours and bring in their own food.
Photo Credits
Hemera Technologies/Photos.com/Getty Images