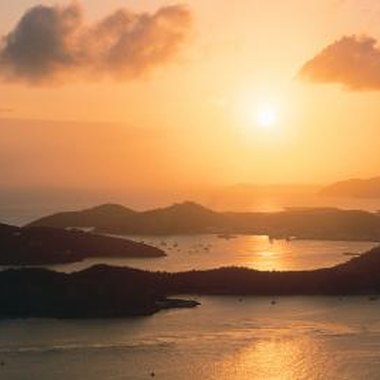 Whether you're traveling to Puerto Rico for business or pleasure, you can still benefit from the large number of party places available on this island. While many people may think of Puerto Rico as a place where only college students on spring break go to party, the area has a variety of establishments and locales that cater to many different tastes and all ages.
Venues
Though you can find bars and clubs in which to party in Puerto Rico -- as you can in many other destinations -- the best party places on this island offer much more. Attractions include jazz clubs, Spanish rock music venues, pubs and casinos, offering a variety of entertainments and places to party. For example, Plaza del Mercado in San Juan is known for its lively music and dancing, while the Condado area outside of San Juan has several hotels featuring casinos. Similarly, the Babylon inside the Wyndham El San Juan Hotel on Isla Verde has a reputation for dance parties.
San Juan
"Experience Puerto Rico" remarks that "the greatest concentration of nightclubs and pubs [in the country] is in the metropolitan San Juan areas of Old San Juan. . . " Here, you can find a variety of hotels and clubs with dance parties, as well as casinos with games from around the world. This city also has pina colada stands on the streets, which operate throughout the day, and free trolleys, so you can eliminate the need for a taxi or a designated driver. "Made Men" and a variety of other websites, including Pub Club, recommend San Juan as one of the top party places, both within Puerto Rico and in general.
Dorado
Away from the metropolis of San Juan, you can still party in Puerto Rico in Dorado, which is on the northern coast of Puerto Rico and only 15 miles from San Juan. With a variety of tourist resorts and hotels such as the Hyatt Hacienda Del Mar, you can experience the legendary nightlife and dance parties with live entertainment and lounges. For daytime excitement, several tourist attraction are nearby, including the well-known beach and golf courses.
Humacao
Humacao is slightly farther away from San Juan than Dorado is, at about 45 miles. Here, you can still find a party atmosphere with more of a relaxed tone. The city also offers a casino, at the Plaza Resort at Palmas Del Mar. In general, Puerto Rican casinos open around noon and close around 4 a.m., giving you plenty of time to enjoy the nightlife while taking your chances against the house.
Photo Credits
Comstock/Comstock/Getty Images