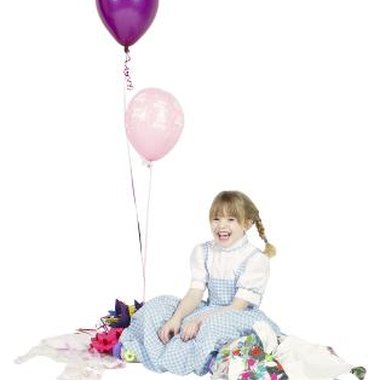 Even though it is a town of less than 3,000 residents, Wellsburg, West Virginia offers a variety of indoor and outdoor party locations for kids. Nearby Steubenville offers even more options so that parents are able to pick the ideal location to throw the perfect party for a kid's birthday.
Entertainment Venues
Many kids enjoy popular entertainment activities such as bowling. In Wellsburg, Brooke Bowling Lanes (no website; Bethany Pike, Wellsburg; 304-737-2011) provides a place for a birthday party where guests are able to bowl and have a good time. Steubenville, Ohio is home to Cinema Six (carmike.com) where parents may take a group of children to enjoy a movie or rent out a theater for a private showing. In nearby Weirton, West Virginia, Krazy Bout Sportz (krazyboutsportz.com) offers an indoor turf field and arcade for birthday parties.
Parks
Wellsburg is home to Brooke Hills Park (brookehillspark.com) which offers a pavilion, clubhouse and multiple shelters available for rent. These facilities may be decorated for a kid's birthday party. Shelter rentals include volleyball and horseshoe pitching for guests. The City of Steubenville's Parks and Recreation Department (cityofsteubenville.us/rec/index.html) offers four parks with facilities for rent for a birthday party. Parks include swimming pools, softball fields, playgrounds and other amenities kids will enjoy.
Sport Activities
Nearby Steubenville, Ohio is home to multiple locations for sports-related kids parties. Parents are able to rent the Beatty Park Swimming Pool or Belleview Park Swimming Pool during the summer for a fun pool party for kids. Steubenville is also home to two miniature golf courses. Lunar Mini Golf (glowminigolf.com) is a black light mini golf course with a special party zone for kids' birthday parties. Lucky Putt (no website; 939 Seven Creeks Rd., Steubenville; 740-283-1010) is a miniature golf course near the Seven Creeks Roadside Spring and will entertain a group of kids for a birthday party.
Restaurants
Restaurants provide a low-stress option for a kid's birthday party. Most children love pizza, which makes Pizza Hut (no website; 1411 Commerce Street, Wellsburg; 304-737-2470) a simple party option. Other pizza places in Wellsburg include DiCarlo's (no website; 523 Commerce St., Wellsburg; 304-737-9849) and Curly's Pizza (no website; 1446 Charles St., Wellsburg; 304-737-3606). Pier 12 (pier12restaurant.com) is situated on the Ohio River and offers a volleyball court and private dining area for parties. Staffileno's on the River (staffilenos.com) is a more upscale option for a special kid's birthday dinner.
Photo Credits
Hemera Technologies/PhotoObjects.net/Getty Images