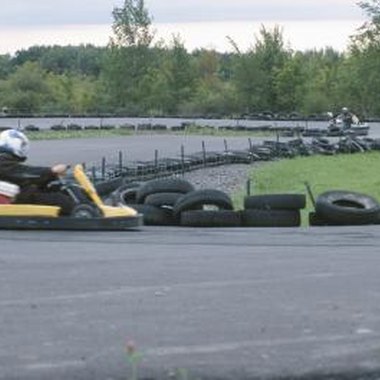 You can only do the sleepover party so many times. By age 11, your child is tired of the same old party where friends come to their house, eat cake and drink soda, then settle down with a movie and lots of laughter. This year, shake up the party by taking the kids somewhere they can get out of the house and have some fun.
Sporting Event
Choose a sporting event or movie/theater production close to your town; make sure tickets will be available at the box office or have them in hand when you arrive. It is customary to pay the admission fee for invited guests, so if you can't afford to pay for everyone, have your child invite just one or two close friends. Let your 11-year-old choose the event, if possible, or choose the event you know the kids will like the best if you want to surprise your child. Don't use it as an excuse to see what you want to see.
Mall Adventures
This isn't a shopping trip, but rather an adventure! Start the trip off with a mall scavenger hunt. Divide the party guests into pairs and give each pair a list of things to find in the mall. They are not buying the items, rather locating them. Have them look for things, such as a pair of white socks with pink polka dots, and write down where they found them and how much they cost. Be sure they know not to remove the item from the store. End the hunt at a time you specify and have the kids meet at the mall food court for a snack. Top the evening off with a movie, if the birthday girl would like.
Go Karts
Many towns have an amusement park or similar facility that offers go karts and arcades. Organize the party so that the kids can drive the go karts and then spend a set amount of money in the arcade. Finish with pizza and a drink. You can make this as formal or informal as you like. For example, you can organize the guests into teams and turn the go kart driving and arcade games into a competition. Be sure to call ahead about go kart and arcade rules. Ask particularly about age, height, weight and waiver requirements for the go karts.
Campground
Take your birthday boy and his friends camping. Find a place next to a lake and bring a boat if you own one. You also might want to bring along a couple of adults to keep track of the kids. Additionally, make sure you have enough life jackets for all people who will be in the water, and enough gear for anyone who might go on a hike. Call the campground ahead of time to reserve a spot. Ask about any special group rules you might need to abide by. Don't forget to pack the snacks.
Photo Credits
Hemera Technologies/Photos.com/Getty Images