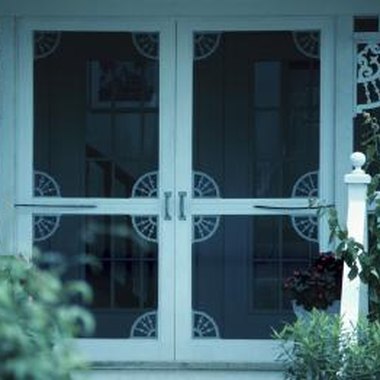 Outdoor entertaining can be a little challenging without a source of light for the party -- especially at night. Porch or patio lights come in many styles, and they don't have to be boring. Select a light source that fits your personal style or adds to the theme of your party.
String Lights
String lights have come a long way in recent years. You no longer have to settle for plastic orbs that are so cheaply made that they melt over time. Now you can shop for quality string lights with hand-blown glass globes or metal shades in all shapes and sizes. And if you can't find a style that suits your mood, don't hesitate to make your own, with a string of Christmas lights and a handmade shade made from heavy vellum.
In the Trees
Who says you're only allowed to string party lights from the ceiling? You can create a totally different atmosphere by indirectly lighting your screened porch or patio with lights in small potted trees. Ficus and hibiscus trees work well for this application. String small Christmas lights inside the branches and leaves, then add inexpensive floodlights in the pot of each tree and point the them upward toward the branches and leaves. This creates a warm, indirect lighting source for your party.
Paper Lanterns
Paper lanterns are an excellent, inexpensive source of lighting for a party on an outdoor screen porch. These lanterns come in many shapes, sizes and colors. Instead of just stringing them around the perimeter of the room, create an overhead collage by filling the the ceiling with different size and shape lanterns. You can use large or small Christmas lights in the lanterns, depending on how brightly you want to light the area.
Candles
Who can resist the romantic mood that is set when you light an area with candles? You can use multiple candles throughout your screen porch. Set candles on tables or shelves, if available. Hang candles in decorative lanterns in strategic places in your space. Shop for free-standing, multi-height candle holders to use as both a lighting source and a decorative element. Or look for candle-based chandeliers to hang and light up your room.
Photo Credits
Hemera Technologies/Photos.com/Getty Images