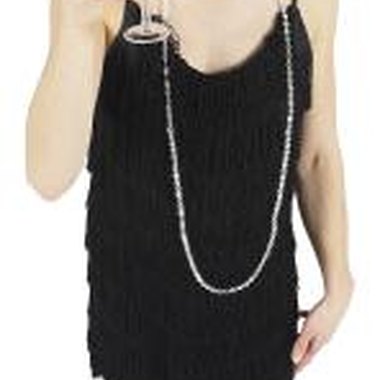 The "Roaring '20s" provide plenty of theme ideas for a party, and your invitations should let people know what they can expect, as well as what's expected of them. From the flappers to the wild speakeasy scene, you can invite your guests to join you '20s-style with one of these invitation ideas.
Speakeasy Secrets
Speakeasies were underground nightclubs where Prohibition was flouted and the drinks flowed. Not just anyone could walk right in -- to protect the owners, guests used passwords and the names of connections to gain entrance. Create an invitation that lets your guests in on the secret by providing them with a password and secret directions to your "speakeasy." Make sure they know to say who sent them!
One of the Gang
Gangsters ruled the streets of some cities in the 1920s, and the pinstriped suits of the well-dressed mob man are forever connected to the era. Make a mob-style invitation for your 1920s party by using a pinstriped background and tommy-gun art and warning guests to watch out for the "coppers" on the way to the party.
Flapper Fun
The "flapper" is by far the best-known fashion trend of the Roaring '20s. Fringed dresses, feathered headbands and long cigarette holders bring the look to life. Make a flapper invitation by decorating the bottom of your invitation with a fringe and using a ribbon and a feather to create a flapper headband around the top.
Time to Dance
Hitting the dance floor for some of the hottest moves of the day was part of any fun night out in the 1920s. The Charleston, the Lindy Hop and other famous dances got partygoers moving; they can get your party guests moving too! An invitation with a silhouette in the background of a 1920s couple dancing and wording reminding guests to bring their dancing shoes is the perfect way to introduce the theme.
Photo Credits
Hemera Technologies/PhotoObjects.net/Getty Images