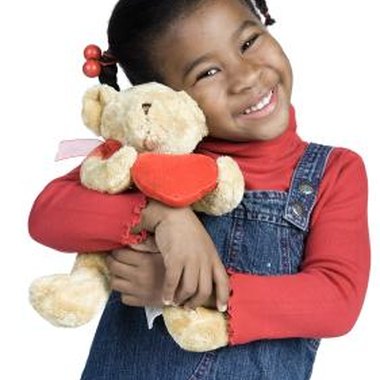 By age three your little girl is beginning to understand what birthdays are all about, so give her a celebration that she will truly love. Don't just go with a theme you happen to think is fun. To make your little girl happy, tailor the party to her interests and personality.
Princess Party
Many three-year-old girls love pretending to be princesses, and if your little girl is among them, a princess party will be perfect. Ask little guests to wear their favorite princess dresses to the party. Provide spares for girls who don't have them. When guests arrive, be sure to call each "Your majesty" or "Your royal highness," and hand out toy tiaras that the girls can keep. Play traditional party games like pin-the-tail-on-the-donkey and musical chairs, but give them a princess twist: pin-the-jewel-on-the-crown and musical thrones. Serve a cake in the shape of a castle and send the little princesses home with dress-up baubles for favors.
Wild West Party
If your three-year-old likes to play cowgirl, a wild west party is a good choice. This is really an afternoon barbecue. Invite children to wear their favorite western attire and provide spares if they don't have any. The must-have accessory is a cowboy hat. Decorate with toy horses and red-and-white checkered tablecloths. Serve good ol' American barbecue food to satisfy tiny cow people. Mini burgers and hot dogs will be more appealing to little children. Sit around a pretend campfire and sing songs. Offer a cake in the shape of a horse with a rider, and offer real pony rides in your backyard if it's in the budget.
Tiny Chefs
At age three, many little girls love to play restaurant, so consider a tiny chef party. Hand out tiny chef hats and aprons when the guests arrive. Lead them into the kitchen so they can all make cookies together with your supervision. Make sure everyone gets a turn at mixing. While the cookies are baking, lead children into a room with a toy kitchen and tiny tables set up, and invite them to cook a meal or play restaurant. Invite parents to stay and pretend to eat the food. When the cookies are finished, serve them to the little chefs along with a cake in the shape of a chef hat. Send the tiny chefs home with play food or play kitchen utensils as favors.
Tea Party
Playing tea party with dolls and teddy bears is a classic little girl favorite. If your three-year-old adores pouring strawberry-chocolate-blueberry-ice-cream-tea for you daily, this is the right theme for your event. Ask guests to bring their dolls or stuffed animals as companions. When they arrive, point them toward a box of dress-up clothes and invite them to get all fancy. Serve juice or caffeine-free tea from a pretty floral china teapot, and provide tea sandwiches with kid-friendly fillings such as cheese or peanut butter and jelly. (Check with parents to make sure that none of your guests have nut allergies.) Offer a cake in the shape of a teapot. Be sure to have an extra table set for teddy bears and dolls to enjoy their tea and sandwiches. Get the group to sing "I'm a Little Teapot," and hand out plastic teacups and saucers as favors.
Photo Credits
Photos.com/PhotoObjects.net/Getty Images