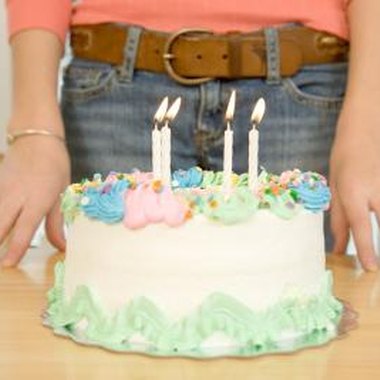 Your 22nd birthday isn't considered a milestone birthday -- like your 21st or 18th -- but that doesn't mean it shouldn't be celebrated in full force. Hosting a party for someone's 22nd birthday allows you to create themes around that special number. Make sure to have party games and gifts ready to ensure a memorable occasion.
The Invitation
A hand-crafted personal invitation will get people interested in the upcoming birthday. Using construction paper or similar make a cut out of the number 22. Write the address, start time and any other information you wish on the invitation, making sure you use exactly 22 words in doing so. Or create an invitation using a photo of the birthday boy or girl. Add a caption underneath the photo that reads: "Come celebrate my 22nd birthday!" If possible, invite 22 guests.
A Theme
Decorate the room or house to honor the magic number 22. If the birthday boy or girl is a sports fan, hang famous jerseys around the area with the number 22 printed on them. Purchase a cake -- or make one yourself if you have the skills -- in the shape of the number 22. Inflate 22 balloons and let them drift around the room. Depending on how well you like the birthday person and what your budget allows, purchase 22 gifts.
Party Games
If you're throwing a party for a 22-year-old, make sure to craft games to help break the ice and keep the good times going. If you own a karaoke machine, have the birthday boy or girl sing 22 different songs during the evening or allow her to request 22 songs to be sung by the guests. As an icebreaker game, have each guest reveal 22 things about themselves. These facts can be as simple as name, age and place of birth or interesting stories from their past.
Gifts
Make sure any gifts you purchase for a 22-year-old are age-appropriate. Try buying something that was created the year the birthday person was born. For example, if he was born in 1989, buy a vintage T-shirt from that year. If you are looking to spend little or no money, try making a card that states 22 different reason why you love -- or like -- the person. If you want to provide the birthday boy or girl with cash, try handing them 22 dollars. Giving gifts with a connection to the number 22 can be memorable.
Photo Credits
Jupiterimages/Photos.com/Getty Images