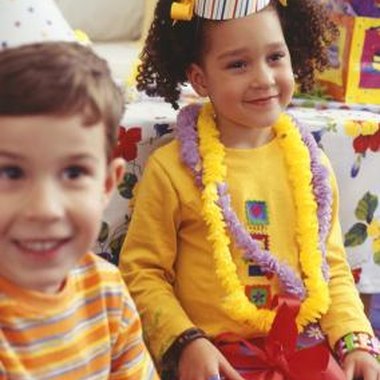 Winter birthday parties for 3-year-old girls don't have to be endless parties of princesses and makeup and shouldn't bore the young male guests or the adult guests. With a bit of imagination and planning, birthday parties can be affordable, entertaining and unusual, thus allowing all of the guests to enjoy the birthday.
Snow Party
If the child lives in a place that is guaranteed a snow dusting from December through February, bundle up and take advantage of the precipitation. Contests for making a snowman, or snow girl, can keep 3-year-olds busy and working as a team. Sledding offers a chance for the chaperoning parent to get involved. If snow is not guaranteed or even possible, grab some foam balls, very large buttons, hats, scarves and carrots for an inside snow person. Serve snow- and winter-themed snack foods such as cakes covered with coconut or marshmallows for each child or hot chocolate for everyone.
Pretend Pajama Party
Children at this age long to go on real sleepovers like an older sibling, and parents may be able to indulge the child for a day. Invite all of the birthday girl's friends over for a pretend pajama party complete with pajama outfit requirements, sleeping bags and pillows. The children can play board games or traditional inside sleepover games like hide-and-seek or have a parent paint toenails. For food, traditional sleepover fun food like ice cream sundaes, pizza and tacos can be done by having the guests garnish their own tacos, top their sundaes or place toppings on their own mini pizzas. Play a light lullaby and read a bedtime story before guests leave and be sure to send them with a parting gift like a small storybook that can be purchased at most dollar stores.
Indoor Tea Party
If a 3-year-old girl loves a tea set or would like one for a birthday present, she'll love a tea party birthday complete with fondant iced cake, dainty sandwiches and tea or hot chocolate. Invite guests to wear proper tea attire such as dresses or dressy outfits, and have parents send or bring smocks if messiness may be an issue. Guests can make the dainty sandwiches with cucumbers, jelly, turkey, and breads and cheeses of their choice. Offer cake and ice cream and drinks in plastic teacups that can be found at many party stores. For a craft idea, parents can assist with creating sock puppets using new socks, buttons, felt and glue sticks. These puppets can be used to hold parting snacks such as candy bars or snack cakes.
Fake Summer
If the birthday girl is tired of the cold, turn the house into a beach party. Use beach balls as balloons that the guests can play with and hand out Hawaiian leis to each guest. Serve a menu of barbecued chicken or beef kabobs or just throw some pulled pork in the crock pot for the barbecue taste. Other menu options are potato salad, orange drink, hot dogs, hamburgers, fruit salad and a cake decorated in a summer theme. Blow up a rubber palm tree from a party store and hand out prizes for guests with the best get-up in swim trunks or Hawaiian shirts.
Resources
Photo Credits
Ryan McVay/Valueline/Getty Images